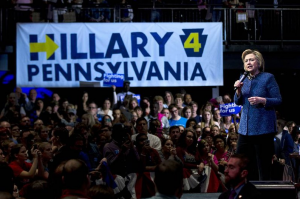 The Hillary Clinton campaign and the Democratic National Committee are directing money to several battleground states and Pennsylvania is among them.
According to Ken Thomas of the Associated Press, PA is one of eight states where the front-runner and the party are hoping to build an organization that will prevail in both the presidential contest as well as down-ballot races.
"The Democratic National Committee and state parties are spending about $2 million initially to build coordinated campaigns in eight battleground states with competitive Senate races," Thomas writes. "The money is being raised by Clinton's campaign through her Hillary Victory Fund, a joint fundraising committee that allows Clinton to raise large checks of more than $350,000 from wealthy donors."

"Democrats say the coordinated effort, now a staple in presidential campaigns, will try to build up the party's network of field organizers earlier in the election and work more closely with Senate, House and state and local campaigns than in previous election cycles," he continues.
In addition to Pennsylvania, the party is also building up the organizations in Colorado, Florida, Nevada, New Hampshire, North Carolina, Ohio and Wisconsin. All of these states are critical both in the presidential election as well as in the contest over who will have a majority in the Senate.
Thomas also notes that several Democratic Senate nominees in these states are women.
"Four of the states with the coordinated campaign are expected to feature women seeking Senate seats — Catherine Cortez Masto in Nevada, Katie McGinty in Pennsylvania, Maggie Hassan in New Hampshire and Deborah Ross in North Carolina — creating the potential for two women atop their state's Democratic ticket," he writes.
Earlier this month, the Clinton team was criticized for using state parties as a way to increase their own coffers. This effort, however, is seen as a serious attempt to lay the groundwork in the states that will make a difference come November 8th.