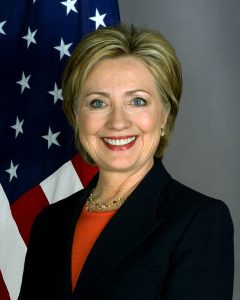 Hillary Clinton is returning to Philadelphia.
After hosting the Democratic National Convention, as well as an August 17th voter registration event, Philly is welcoming Clinton back on September 19th.
Clinton revealed that should would be making this campaign stop during her speech today in Greensboro, North Carolina.
"On Monday, September 19, Hillary Clinton will campaign in Philadelphia, where she will deliver a speech laying out the stakes of November's election for millennial voters in Pennsylvania and across the country," the campaign stated. "Clinton will discuss the challenges facing young people today and how her agenda would support them, including her plans to make free community college and debt-free college available to all Americans."
The description suggests that Clinton is likely to hold the event on a college campus. This news comes on the heels of the latest Quinnipiac Poll showing 44% of 18 to 34 year-olds nationwide support Libertarian Party nominee Gary Johnson or Green Party nominee Jill Stein.
The campaign also launched Millennials for Hillary today.
President Barack Obama made a campaign stop on Tuesday for the Clinton-Kaine ticket in Philadelphia.
UPDATE: Clinton's speech will take place at Temple University in the Great Court at Mitten Hall at noon. Doors open at 10:30 a.m.