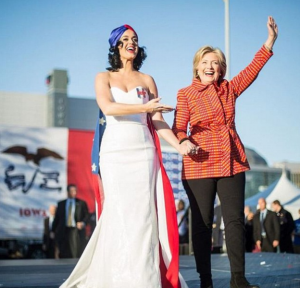 Katy Perry will put on a Get Out The Vote performance in support of Hillary Clinton on Saturday November 5th in Philadelphia. The performance is part of Hillary for America's "Love Trumps Hate" concert series.
Jon Bon Jovi has already announced that he'll perform a show in Pittsburgh for the Clinton campaign on October 27th.
Perry publicly endorsed Clinton last October and has since campaigned for her, including at a rally and performance in Iowa before the caucus. Perry also performed for Clinton in Philadelphia this past summer during the Democratic National Convention.
Perry is expected to urge Pennsylvanians to get out and vote for Clinton on Election Day.
Ticketing details, time and location of the event have not yet been released.