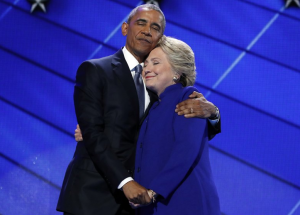 On the eve of the election, the biggest names in Democratic politics will be in Philadelphia.
According to Dan Merica of CNN, Hillary Clinton will spend the last night of the campaign in the City of Brotherly Love.
She won't be alone as the President and First Lady as well as her husband and daughter will also be there. So Hillary Clinton, Barack Obama, Michelle Obama, Bill Clinton and Chelsea Clinton are all going to be there.
This is the first time that the Clinton and Obama families will campaign together and it may be the final major rally of the campaign.
The choice of Pennsylvania makes sense as we are one of the only states without early voting.
More details, including location and time, are to come.