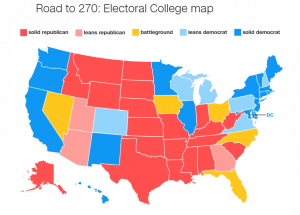 Pennsylvania has a bit of whiplash.
In the last three months, CNN has moved PA from "Leans Democrat" to "battleground" to "Leans Democrat" again.
Pennsylvania was one of three states, along with New Hampshire and Virginia, that was moved from yellow to light blue. As a result, Clinton is currently above the 270 electoral vote threshold with 273. Meanwhile, Trump has 190 electoral votes and the battleground states represent 74 electoral votes.
In fact, thanks to PA's shift, the Trump campaign has not had one state move closer to them over the three maps that CNN has released. In addition to the three changes above, Wisconsin and Colorado have gone from "battleground" to "Leans Democrat" while Utah went from "Solid Republican" to "Leans Republican".
The full breakdown is detailed below:
Solid Republican: Alabama (9), Alaska (3), Arkansas (6), Idaho (4), Indiana (11), Kansas (6), Kentucky (8), Louisiana (8), Mississippi (6), Missouri (10), Montana (3), Nebraska (5), North Dakota (3), Oklahoma (7), South Carolina (9), South Dakota (3), Tennessee (11), Texas (38), West Virginia (5), Wyoming (3) (158 total)
Leans Republican: Arizona (11), Georgia (16), Utah (6) (33 total)
Battleground: Florida (29), Iowa (6), Nevada (6), Ohio (18), North Carolina (15) (74 total)
Leans Democratic: Colorado (9), Michigan (16), New Hampshire (4), Pennsylvania (20), Virginia (13), Wisconsin (10), (72 total)
Solid Democratic: California (55), Connecticut (7), Delaware (3), DC (3), Hawaii (4), Illinois (20), Maine (4), Maryland (10), Massachusetts (11), New Jersey (14), New York (29), Oregon (7), Rhode Island (4), Vermont (3), Washington (12), Minnesota (10), New Mexico (5) (201 total)