CNN Places PA Senate Seat as Most Likely to Flip in Latest 2022 Ratings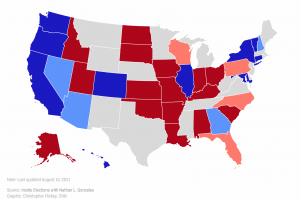 For the fifth consecutive ratings update, Pennsylvania's U.S. Senate seat remains as the most likely to flip partisan control in 2022, according to this national outlet. 
According to CNN, Pennsylvania is listed as the Senate seat that is most likely to flip parties in the 2022 election in it's latest Top 10 rankings released on August 11. Pennsylvania debuted as the most likely Senate seat to flip by CNN in its inaugural rankings released on March 3 and also was #1 in the April 21 ratings update, May 27 update, and July 5 update. 
CNN's Simone Pathe cites Pennsylvania's race being an open seat due to GOP Sen. Pat Toomey retiring, coupled with Joe Biden flipping the state back in the win column for Democrats in 2020 as the reason the Keystone State remains in the #1 spot on the list. 
Two notable developments in the race that Pathe points out in the latest ratings update is the $1.2 trillion infrastructure package that passed the U.S. Senate by a 69-30 vote, plus Rep. Conor Lamb (D-Allegheny) and Carla Sands entering the race. 
Pathe writes that Democrats will be "pointing to the $1.2 trillion package as a shining example of what Democratic control can deliver for the American people, while some GOP candidates attack it for spending too much money."
Pathe's analysis of the Democratic race describes Lt. Gov. John Fetterman as "the biggest fundraiser in the race," Montgomery County Commissioner Val Arkoosh having the support of EMILY's List, state Rep. Malcolm Kenyatta (D-Philadelphia), and Lamb, who has "tried to cut a more moderate image, which could be advantageous in a general election" as "the major candidates trying to flip this seat blue."
The GOP candidates mentioned by name in the analysis are Jeff Bartos, a Montgomery County real estate developer and former Lt. Governor candidate; Sean Parnell, an Army veteran and former congressional candidate; Carla Sands, former President Donald Trump's Ambassador to Denmark and a "top donor"; and Kathy Barnette, a former congressional candidate who "generated some buzz by outraising the other GOP contenders in the second quarter."
Other Democrats who have filed a statement of candidacy with the Federal Elections Commission not mentioned by name in the article include state Sen. Sharif Street (D-Philadelphia), ​​Dr. Kevin Baumlin, the chief of emergency and urgent care services at Pennsylvania Hospital, Brandaun Dean, Larry Johnson, Alexandria Khalil, Kyle Norton, Eric Orts, and Alan Shank. 
The Republicans who have filed to run for the seat that are not mentioned by name in the article are Sean Gale, an attorney; Everett Stern, a businessman and HSBC whistleblower; Craig Snyder, a political consultant and former chief of staff to Sen. Arlen Specter, James Edward Hayes, John Debellis, Martin Rosenfeld, and Robert Jeffries.
CNN isn't the only national outlet placing Pennsylvania's Senate race in a category to signal the importance of the seat in 2022. 
Larry Sabato's Crystal Ball rated Pennsylvania's Senate race in 2022 as the lone Toss Up of the cycle in its initial ratings, the Cook Political Report listed Pennsylvania's race as one of three states that are considered to be Toss Ups, and Inside Elections labels the Keystone State as a "Battleground" for the 2022 Senate election.