By Jared Edgerton, Contributing Writer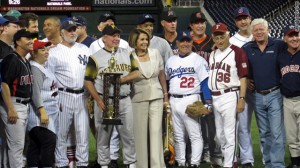 Coach Doyle, better known as Rep. Mike Doyle (PA-14), helped the Democrats defeat the Republicans 8-2 in a charity baseball game last night.
Doyle was joined by several of his Pennsylvania colleagues for the game.  Reps. Mark Critz (PA-12) and Tim Holden (PA-17) played for the Democrats, while Reps. Lou Barletta (PA-11), Pat Meehan (PA-7), Todd Platts (PA-19) and Bill Shuster (PA-9) played for the Republicans.
After the game Doyle said that he hoped the good feelings on the baseball field would translate into more bipartisan initiatives.
"It gives us a chance to get to know one another and it helps a lot when you see someone on the floor that you played ball with, you have something else in common with them. You're going to give them the benefit of the doubt and be a little bit more civil."
Any boost in bipartisanship would be much appreciated by the Obama administration and Congressional Republicans who are currently trying to strike a deal to raise the debt ceiling.
$150,000 was raised from the games ticket sales. The proceeds will go to The Washington Literacy Council and The Boys and Girls Club of Greater Washington