By Ali Carey, Contributing Writer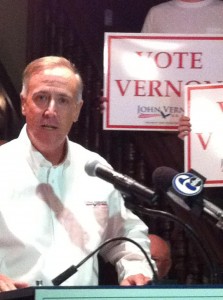 Colonel John Vernon officially announced his candidacy for the 2012 U.S. Senate election this morning at Liberties Restaurant & Bar, a historic Philadelphia establishment
It was a fitting place for Vernon, a former Colonel, to kick off his official campaign announcement.
PoliticsPA got to sit down with Colonel Vernon and his wife, Diana as they had breakfast at a nearby restaurant just before his speech.  They were both clearly excited about their Announcement Plan scheduled for today and tomorrow which includes six locations around the Commonwealth: Philadelphia, Carlisle, Williamsport, Wellsboro, Erie and Murrysville.
Vernon reported that he is very pleased with the progress of his campaign.  He described his campaign as "organized and decisive."
Overall his sentiment was optimistic and hopeful.
"We see solutions, not issues.  We see opportunities."
After serving in the military for over 30 years, this is Vernon's first go at a political career.  He has virtually no name recognition and his financial base remains unclear and many of his staffers have little campaign experience.
Despite all this, Vernon isn't worried about competing against his better funded opponents.
"People are attracted to me for who I am and our message resonates with people.  We're all in this together and the next election is going to be about perception, likability and the contrast between candidates."
On the criticism of having no prior political experience he argued, "Politics is in the military too."
He emphasized that he is enjoying listening to "businessmen and women throughout the state so that they can explain to him how to create jobs."
His campaign is clearly a grass roots effort of political newbies.  The crowd at Liberties this morning was a mix of gung-ho Vernon supporters and curious PA Republicans hungry for a strong opponent to defeat Casey.
Vernon described his supporters as tea party members, kitchen table patriots and concerned citizens.  He certainly not alienating any conservative groups and he's appealing to a populist message.
He opened his speech this morning saying, "The nation that I love and the nation you love is under crisis."
He spoke of the economic crisis and said that he felt compelled to run for office because our country is "at a water shed moment in history."
"Not long ago America had been regarded as the land of opportunity.  It's unconscionable that now there are over 14 million unemployed," said Vernon.
He emphasized that the nation's current financial crisis is perpetuated by an administration which is supported by Senator Casey.
"We are no better off than after the massive spending bill 4 years ago."
Vernon closed by quoting Winston Churchill, who famously said, "I like things to happen; and if they don't happen I like to make them happen."
Vernon's message is strong and hopeful.  He underscored that the citizens have the power to "restore America" and he is asking citizens of Pennsylvania to "become part of his movement."
Vernon's campaign announcement may not have been the best attended campaign announcement a GOP candidate has ever seen, but his supporters are passionate and they find him authentic.  Vernon is running a "man of the people" campaign.  Attendees at Liberties ranged from members of University of Pennsylvania's Sigma Ki Fraternity, to small business owners to local political activists.
Most people there hadn't heard much about John Vernon and this morning was there chance to get to know him.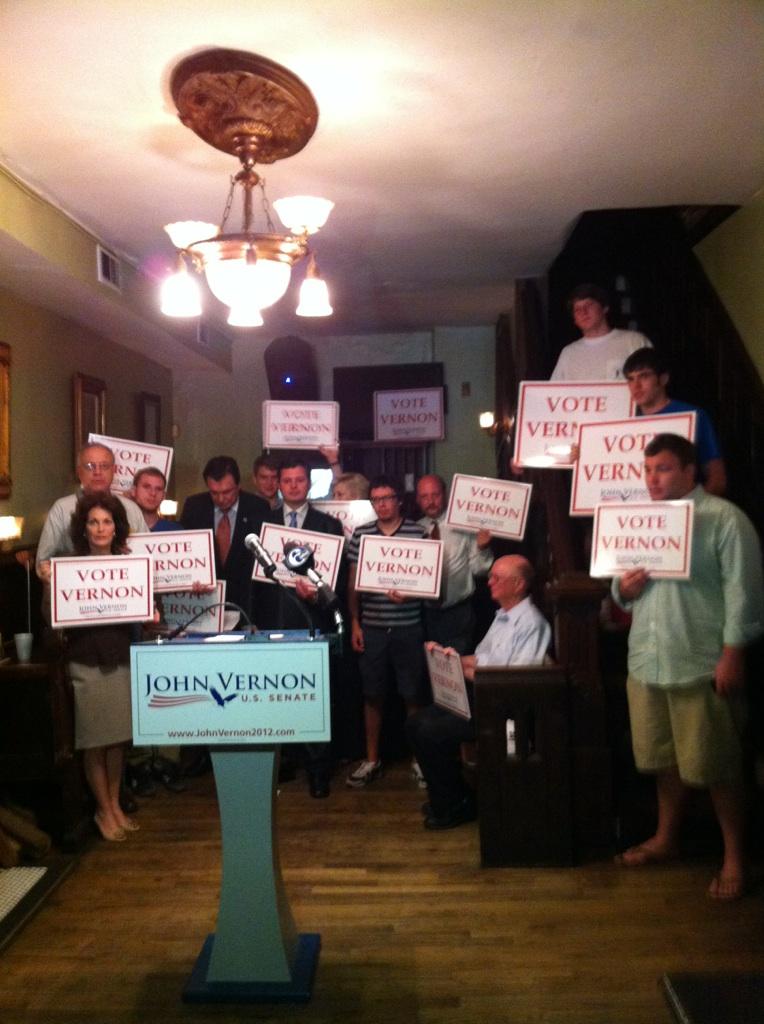 Joe Eastman decided to get involved in Vernon's campaign after having dinner with him last night.  He was impressed.
"I got the sense of leadership.  I got the sense I wasn't talking to a politician " said Eastman.
A. Lindsay Doering, Eigth District Ward of Philadelphia, came out to hear what Vernon is all about this morning.
"If this is the quality of candidate that's running this time around, then I think we're gonna be in good shape come election time," he said.
Vernon joins coal industry veteran Tom Smith, businessman and former congressional candidate Steve Welch, and Harrisburg-area attorney Marc Scaringi in the race. Former State Rep. Sam Rohrer, Scranton Tea Party founder Laureen Cummings, Bucks County veterans' advocate David Christian, and former PA-12 congressional candidate Tim Burns are all possible contenders.
There's no question Vernon will face tough competition financially and the question remains if he will have the money to make all the way through the race.  However, Vernon's Campaign Finance Director Ryan Steven is confident that Vernon can garner the funds to be a viable candidate.
"Multiple people have been approaching us," said Stevens.  According to Stevens, Vernon even has supporters who are small and large business owners from out of state including DC, New York, Chicago and other parts of the Midwest.
Vernon's wife, Diana, never thought her husband would run for office and she is just trying to take it all in and enjoy the ride.  When asked about how she likes political life she said, "We're just trying to get through the next two days."
She's very encouraged about the direction of the campaign and she doesn't seem too concerned about mustering up the funds to be a serious contender.  "All I know is people hear him talk and they like him," she said.