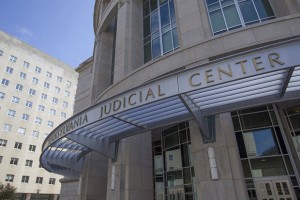 With Election Day just hours away, we thought it would be a good idea to provide information on each judicial candidate up for office tomorrow.
The Pennsylvania Bar Association issues ratings of "Highly Recommended", "Recommended" and "Not Recommended" to all the candidates.
In the Supreme Court contest, Democratic nominees Christine Donohue, Kevin Dougherty and David Wecht are running against Republican nominees Anne Covey, Michael George and Judith Olson for three open seats. Independent Paul Panepinto is also running.
There is also a Commonwealth Court seat up for grabs. Democrats nominated Michael Wojcik and Republicans nominated Paul Lalley.
Finally, there is also a race for a Superior Court seat. Democratic nominee Alice Beck Dubow is up against Republican nominee Emil Giordano.
The ratings are presented below, to read the bar's explanation for their ratings click the link in each section.
PA Supreme Court
Presented in alphabetical order
Link: http://www.pabar.org/public/committees/jec/15supremecrt.asp
Judge Anne E. Covey (R) – Not Recommended
Judge Christine L. Donohue (D) – Highly Recommended
Judge Kevin M. Dougherty (D) – Recommended
Judge Michael A. George (R) – Recommended
Judge Judith F. Olson (R) – Highly Recommended
Judge Paul P. Panepinto (I) – Recommended
Judge David N. Wecht (D) – Highly Recommended
PA Commonwealth Court
Presented in alphabetical order
Link: http://www.pabar.org/public/committees/JEC/15commonwealthcrt.asp
Judge Paul N. Lalley (R) – Recommended
Judge Michael H. Wojcik (D) – Recommended
PA Superior Court
Presented in alphabetical order
Link: http://www.pabar.org/public/committees/JEC/15superiorcrt.asp
Judge Alice B. Dubow (D) – Recommended
Judge Emil A. Giordano (R) – Recommended