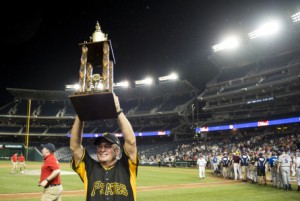 Congressional Democrats were victorious Tuesday night in the 53rd Annual Roll Call Congressional Baseball Game, prevailing by a score of 15-6, their sixth win in a row over the Republicans.
"That's pretty special," said Rep. Mike Doyle, who manages the Democratic team, on their winning streak. "It feels good and it's one of those streaks you don't want to end but you know it will someday. So we're trying to enjoy it while it's happening."
In addition to Doyle on the Democratic team, Pennsylvania Reps. Lou Barletta and Pat Meehan played for the Republicans.
While most of the rainy night was good-natured, a tense moment occurred between Meehan and Republican Manager Joe Barton when Meehan was sent in to pitch in the middle of the fifth, but removed as soon as the inning, during which Democrats continued to bat in runs, ended.
"I want to play, Joe!" Meehan exclaimed as he threw his mitt at the ground. Amidst requests for Barton to step down from his management position after the Republican team's 22-0 loss last year, tension between manager and players is not surprising.
Despite the short episode between Meehan and Barton, all players agreed that the game was a nice chance to have fun with Congressional members from across the aisle without any political bickering.
Doyle discussed the victory on the House floor the next morning. "I want to start of by congratulating our Republicans for putting up a hard-fought game in last night's Congressional Roll Call Game," he said. "As you know we broke an attendance record last night and a record for the amount of the money raised for the charities – over $400,000 for three charities."
The money raised went to the Washington Literacy Center, the Boys & Girls Clubs of Greater Washington and the Washington Nationals Dream Foundation.
Barton in turn congratulated both the Democrats and his own team, but couldn't resist inserting a bit of good-natured political rivalry into the discussion. "The sixth victory in a row was well-earned, but I will say that is on loan. That trophy is not permanently on that side of the aisle. And while you've won six games in a row, we've won about sixty votes in a row here on the House floor."