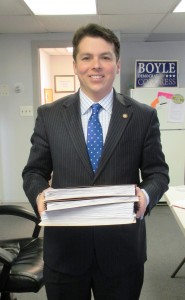 The time for filing has passed, and we take a look at who appears to be in good standing as they make their run for the United States House of Representatives.
Winners:
Rep. Mike Fitzpatrick (R-Bucks)
The DCCC has made no secret about Fitzpatrick being one of their big targets in the Commonwealth this year, but his petition signatures were a major show of strength.
He filed 5,500 signatures, and his two challengers amassed that many combined.
He will face the winner of a Democratic primary between DCCC backed candidate Kevin Strouse and chemist businesswoman Shaughnessy Naughton.
Rep. Bill Shuster (R-Blair)
Shuster was the first candidate in the state of Pennsylvania to qualify for the primary ballot, filing his 1,000 signatures just a few days into the petition period, but his campaign hardly rested on their laurels – they more than tripled their petition count by this week.
His final count? 3,700 in a race where he will have two Republican primary challengers.
State Rep. Brendan Boyle (D-Philadephia)
Boyle is running for the Democratic nomination in PA-13, the seat vacated by Allyson Schwartz's retirement. He's locked in a four-way primary and bested his competition in the petition game.
He filed 4,000 signatures, and while this is the congressional list, it is worth noting that he filed another 1,000 to retain his State House seat.
Rep. Charlie Dent (R-Lehigh)
Dent represents a moderate district that has seen many well-funded challengers from the Democratic side, but this year, the Lehigh Valley Republican will be completely unopposed from both sides of the ballot.
He filed 3,400 petition signatures.
Losers:
Micah Sims (D-11)
Reverend Sims' campaign for the 11th Congressional District came to an abrupt halt this week when he failed to file any petitions. This makes him "Loser Number 1."
John Hugya (D-12)
Hugya was the Chief of Staff to long-serving Rep. John Murtha, so he should have been better prepared for the petition period.
He filed a mere 1,500 signatures, just 500 over the bare minimum to run for Congress. His primary opponent, first-time politico Erin McClelland filed closer to 2,000.
Raja Kittappa (D-16)
Kittappa was virtually unknown in the political world until earlier this week when he filed his petitions; however, he submitted a mere 1,182 signatures upon a manual count by PoliticsPA.
He faces a much better organized opponent in the primary, former Rep. Tom Houghton, who filed nearly 3,000 signatures. Kittappa's petitions may be an easy challenge for Houghton.