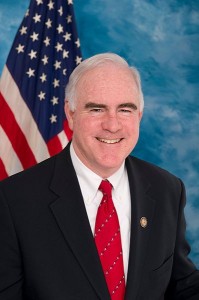 Rep. Patrick Meehan (R-Delaware) can breath a little bit easier according to the Cook Political Report. His 7th congressional district has been deemed a "Solid Republican" seat by the highly-regarded prognosticators at the non-partisan Cook Political Report.
The district had previously been labeled "Likely Republican" but PA-07 was one of only four districts to change ratings since last month's rankings. The website described the seat and it's Representative thusly:
Meehan has emerged as one of the most middle-of-the-road voices in the 2010 freshman class in the House, becoming one of just 20 Republicans to call for a clean continuing resolution during the government shutdown. A former prosecutor with a non-political reputation and a district redrawn to protect him, it's easy to see why Democrats are having such a tough time recruiting here.
Meehan does not yet have a declared challenger. He first won election to Congress with 55% of the vote in 2010 and was re-elected two years later in the newly redistricted PA-07 by a nineteen point margin. In the 2012 presidential race, Mitt Romney edged out President Obama in the district 50.4% to 48.5%.
Altogether in its December assessment, the Cook Political Report considers only 73 out of 435 congressional districts in any way competitive. The only Pennsylvania district to make the list was Pennsylvania's 8th, represented by Rep. Mike Fitzpatrick (R-Bucks) and rated "Lean Republican".