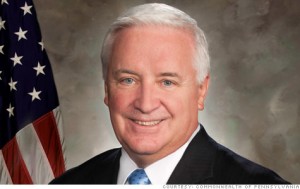 By Meghan Schiller, contributing writer
Thanks to increased support among Pennsylvania's female voters, Pennsylvania Governor Tom Corbett now has a 44-36 job approval rating — the first such uptick since he took office, according to a Quinnipiac University poll released on Wednesday.
Corbett's support among women is still shaky (37 approve / 41 disapprove), but it represents a marked improvement from the previous Quinnipiac survey in June (30 approve / 43 disapprove).
"Pennsylvania Gov. Tom Corbett, who had a 39 percent job approval in each of our first three polls this year, might be seeing some daylight," according to Tim Malloy, assistant director of the Quinnipiac University Polling Institute. "He's doing better than his Republican neighbors, Ohio Gov. John Kasich, who had a negative 35 – 50 percent approval in our July 20 survey, and New Jersey Gov. Christopher Christie, who had a negative 44 – 47 percent score June 21. Both of those governors suffer from big negatives among women voters."
A total of 64 percent of Republicans now approve of the way Corbett is handling his job as governor, while 26 percent of Democrats and 46 percent of Independents agree.  And despite the continued leeriness voters have towards his policies (43 percent said they don't approve of them, compared to 40 percent who do) a strong plurality of voters (48 percent) like the governor as a person.  
UPDATED (11:56am): Soon after the survey results were released, the Pennsylvania Democratic Party distributed an email highlighting that below-water policy figure, as well as the fact that Keystone State voters disapprove of Corbett's handling of the budget negotiations, 45 percent to 41 percent, according to the poll.
"Even though Tom Corbett spent taxpayer dollars to run over a month of television ads on broadcast news, Pennsylvanians still disapprove of his policies and his budget," Democratic Party spokesman Marc Nicastre said in a statement.  "It goes to show that Tom Corbett can't even buy much support – even with lots of taxpayer-funded television ads."
The survey also found that a majority of Republicans (53 percent) and Democrats (70 percent) support implementing a new tax on companies drilling for natural gas.  The strongest approval for the fee comes from the state's Northeast (71 percent) and Southeast (64 percent) regions. Throughout his campaign and first eight months in office, Corbett has staunchly opposed such a levee.
A strong majority of the state's voters (78 percent) support implementing a local reimbursement fee on Marcellus Shale drillers — an approach recommended by the Governor's Marcellus Shale Advisory Commission last week.
Meanwhile, 59 percent of Keystone State registered voters (including 55 percent of Independents) believe the economic benefits of Marcellus Shale drilling outweigh the environmental concerns.  
Note: From July 25 – 31, Quinnipiac University surveyed 1,358 registered voters with a margin of error of +/- 2.7 percentage points. Live interviewers call land lines and cell phones.