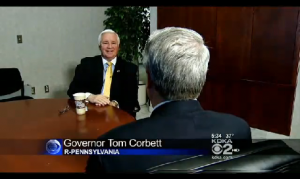 It started when KDKA's Jon Delano asked Gov. Tom Corbett about Montgomery County Commissioner Bruce Castor and the threat of a primary challenge.
"Bruce Castor was a majority commissioner in Montgomery County," Corbett replied. "And he's now a minority commissioner in Montgomery County. His performance has not been the most to talk about."
"He's always wanted my job," said Corbett of the 2004 Attorney General primary.
"The really funny part was, it was on Pittsburgh TV, where no one – until then, anyway – knew me," Castor wrote in an email to the Philadelphia Daily News.
Meanwhile, Castor spokesman Joe Sterns emailed reporters to crow about the results of a survey from Harper Polling. It showed Corbett ahead of Castor 49% to 21% – a net gain of 12 points for the Montco Commish from a PPP poll in January that showed him behind 51% to 11%.
"Republicans are growing less and less comfortable with the thought of making Tom Corbett our nominee rather than a credible, articulate conservative who has a shot at defeating a tough Democrat," Sterns wrote.
Medicaid
As a backdrop to the campaign, the looming question of whether Pa. should expand Medicaid through Obamacare. Corbett has said no on the grounds that it would cost the state too much in the long run. But he's left the door open for reconsideration.
To wit: his recent appearance on Fox News Business. The video, below, comes courtesy of Americans for Prosperity – a conservative group that loudly opposes the expansion.
"We can't recommend it to the legislature at this time," Corbett said. "As we look at it, an expansion is not sustainable in Pennsylvania."
He said PA's per capita cost of Medicaid is the second highest in the nation, meaning a one-size fits all model from the federal government is not feasible – not to mention the feds' habit of promising funding one year and cutting it down the line.
Asked directly if he could reconsider, he said, "I can't recommend it right now on the facts that I have right now. If the facts substantially change then I would have to reconsider where we are."
Castor emailed friends and reporters a link to this analysis from the conservative Watchdog Wire, in which writer Jana Benscoter compares a hypothetical Corbett Medicaid flip to Arlen Specter's decision to support the stimulus. Castor spokesman Sterns is interviewed in the piece and supports the comparison. The late Senator's vote for the Democrats' stimulus package led to a collapse in his support among Republicans and ultimately precipitated his party switch.
Here's the Fox Business interview:
http://youtu.be/wpf1bK3GH-I
A Little Psychoanalysis
What motivates Castor? To editorialize a bit: messing with Corbett. The two have long been antagonistic and Castor is not a man to forget a slight.
Would he be interested in running against an incumbent Governor with an identical record, but who was not Tom Corbett – the man who beat him in the 2004 AG primary after the PAGOP establishment turned on Castor? Probably not.
Republicans went from the majority to the minority on the Montco Board of Commissioners in 2011. Democrats ran their campaign, in part, on Castor's combative personality.
If Corbett's poll numbers rebound in a year and Castor decides to take a pass, he'll probably be content with the knowledge that he gave the Governor heartburn for several months.