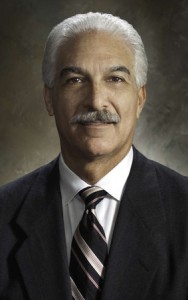 Update: The Philadelphia Inquirer reports Allan was booted after an email surfaced in which he used a racial epithet:
But sources who spoke on condition of anonymity, said Corbett became aware of an email that Allan wrote to his wife, also a state employee, in which he jokingly uses a derogatory racial term for an African American.
—-
If you thought the Obama administration was shaking things up in recent months, you should take a look at Harrisburg.
Yet another of Gov. Tom Corbett's cabinet secretaries resigned Thursday, this time at the Governor's request.
Corbett pushed Richard Allan out of his post as Secretary of Conservation and Natural Resources. He had served in the role since shortly after the Governor's inauguration in January 2011.
The Governor's office offered no explanation for the move in its announcement.
Looking for answers, one environmental advocate pointed to Allan's non-public negotiations with an energy company. Anadarko Petroleum wants to drill in 18,000 acres of state forest in northeast Pa.
"It appears to us that this forced resignation came as a result of mishandling of the drilling situation in a state forest, specifically the unwillingness of DCNR to involve the public in the controversial Loyalstock State Forest drilling proposal," Jeff Schmidt, executive director of the Pa. Sierra Club told the Philadelphia Inquirer. "We now call on Gov. Corbett to stop the back room dealing with Anadarko Petroleum."
A Corbett spokesman told StateImpactPA, "It's a personnel matter so I can't discuss it. It has nothing to do with any differences of public policy."
John Hanger is a Democrat running for Governor. He previously served as Secretary of the Department of Environmental Protection, which works closely with DCNR.
"These government agencies are supposed to deliver real services to Pennsylvanians," said Hanger. "But in agency after agency, phones go unanswered, applications for assistance or permits pile up in backlogs. That did not happen under my watch in the two agencies that I managed."
Six Corbett cabinet secretaries have resigned in the past year:
June 2013: DCNR Secretary Richard Allan resigned out at Corbett's request.
May 2013: Education Secretary Ron Tomalis left his post but stayed on as a consultant to the department.
April 2013: DEP Secretary Michael Krancer later joined Philadelphia law firm Blank Rome LLP.
March 2013: Inspector General Kenya Mann Faulkner later joined the University of Cincinnati as its legal counsel.
February 2013: Public Welfare Secretary Gary Alexander's consulting firm signed up to advise review the public welfare system of the state of Arkansas.
October 2012: Health Secretary Eli Avila resigns.