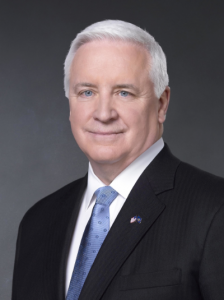 Gov. Tom Corbett said he still has questions after meeting with Health and Human Services Secretary Kathleen Sebelius. The two discussed the possibility of expanding Medicaid in Pa. under the Affordable Care Act.
"We had a meaningful discussion around increasing access to affordable, quality health care in a way that would lessen the burden on the state's taxpayers in the long-term," Corbett said. "I want to thank the secretary for her time and attention to our questions."
The two met in Washington, DC Tuesday evening, after which federal officials pledged 100% funding for the hypothetical program's first three years and at least 90% after that.
Corbett said he'd like more details about Arkansas and Tennessee, states which have utilized private insurers to expand coverage. He also wants to
"Until we know whether or not significant reform is possible, I continue to have concerns that Pennsylvania's Medicaid program will be able to serve, in a sustainable manner, the approximately one in four Pennsylvanians that would be covered under a full expansion," Corbett said.
Corbett's decision over whether to opt Pennsylvania into the ACA, also called Obamacare, is being watched closely.
Democrats have loudly protested his decision to date not to expand the program, saying he risks federal funds that would allow low income Americans to join the program.
"There is no reasonable benefit to rejecting the Medicaid expansion plan; in fact, we should embrace the plan. It's an unprecedented opportunity to help many folks who are in desperate need of health care and at the same time create jobs and receive federal funding. This should be a no-brainer," state Sen. Mike Stack (D-Phila) said last month.
All of Corbett's prospective Democratic challengers including Stack have joined in that criticism.
On the right, activists are just as fervently encouraging Corbett not to pursue the plan. They argue that the federal funds will drop off after a few years, leaving Pa. with a bill it won't be able to afford.
Montgomery County Commissioner Bruce Castor, who has indicated he is considering a primary challenge to the Governor, is among those calling for Corbett to reject the plan – though he has expressed support for a private insurer-based option.
Other Republicans including some lawmakers have offered tentative support for the expansion.

The Governor's press release read, "Corbett indicated that he will await further information from HHS and that no further decisions will be made at this time."