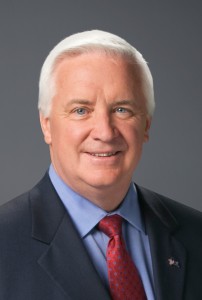 It seemed like it would be a low-key night. Of course, appearances can often be deceiving and they certainly were last night.
Earlier yesterday it looked as if a $29.1 billion budget plan would be signed by midnight on Monday.
The Senate passed the bill on a mostly party-line vote of 26-24. Later that night, the House passed the same piece of legislation again by a mostly partisan 108-95.
The dissenting Republicans, Sen. Chuck McIlhinney and Reps. DiGirolamo, Miccarelli and Taylor were all from Southeast PA.
At around 11:00 PM, however, Governor Corbett shocked the commonwealth when he revealed he would not be signing the budget before the midnight deadline.
"We are elected to serve the best interests of the people of Pennsylvania. Leadership is not always about the popular choices; it's about difficult choices," the Governor wrote in an official statement. "The budget I received tonight makes significant investments in our common priorities of education, jobs and human services. It does not address all the difficult choices that still need to be made."
Specifically, the Governor mentioned the lack of pension reform in the budget as a reason not to sign it into law.
"I will continue to work with the legislature toward meaningful pension reform," he concluded. "I am withholding signing the budget passed by the General Assembly while I deliberate its impact on the people of Pennsylvania."
Therefore, the current budgetary process is at a standstill at the moment as everyone awaits the next move.