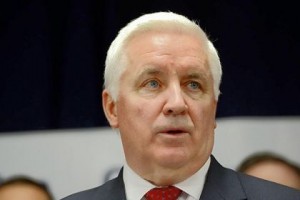 The Holy Family Institute in Emsworth, Allegheny County, has offered to take care of some of the child immigrants from Central America, but Gov. Tom Corbett is worried about the spread of disease.
In addition to his health concerns, Corbett believes that the children who crossed the border illegally must be returned to their native countries.
"We feel for these children that they are fleeing their countries. We want to make sure they are taken care of and returned to their countries. But we also are concerned about their health and what they may cause as far as health issues in the state of Pennsylvania," Corbett said in a statement.
"From my standpoint, where they are coming in, there are certainly enough military bases in Texas and Arizona that the federal government could at least house them there temporarily to make sure before they send them to any state that their health conditions are okay for that," he continued. "That they've had all their immunizations and so forth because we have a strong concern on that. From a humanitarian standpoint you want to make sure these kids get taken care of but they need to be returned to their country of origin."
Though Pennsylvania is many miles from the U.S.-Mexican border, Corbett is uneasy about the immigrants possible effect on the commonwealth.
"Measles is one that comes to mind very quickly and what other diseases that they may or may not have," Corbett explained. "We can not be a country that just takes everything that comes here without at least looking into the background of this. And again this is one where the federal government hasn't even talked to the states about 'Can we send them into your state?'"
The Holy Family Institute in Emsworth, which is run by Sisters of the Holy Family of Nazareth, volunteered to temporarily host a portion of the immigrant children.
David Zubik, the bishop of Pittsburgh, has released a statement regarding the Central American kids.
"There have been questions as to why Catholics are involved," Zubik said. "The Catholic Church responds to humanitarian crises here at home and all across the world because we are pro-life. Being pro-life requires we protect and care for vulnerable persons from conception to natural death. It has been reported that some of these children are fleeing violence. The current law requires that they receive a hearing to determine if in fact they are refugees fleeing grave danger."
"Whether they are traveling because of poverty, or violence, or with the hope of reuniting with relatives on the other side of the border, followers of Jesus are called to protect these children and help them because they are very vulnerable and defenseless against any abuse or misfortune."
The national discourse over what to do with the Central American illegal immigrant children has apparently spread to Pennsylvania. Bishop Zubik is ready to welcome the immigrant kids; Gov. Corbett, meanwhile, is nervous about allowing the the Central American children into the commonwealth.