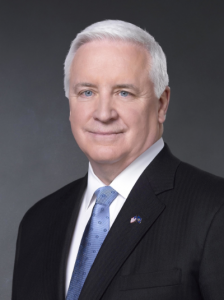 Gov. Tom Corbett is off to healthy start for the 2014 cycle. The first term Republican had $3.53 million in his campaign accounts at the end of 2012.
According to year end campaign finance reports filed Jan. 31, the Tom Corbett for Governor committee has $3,503,230 on hand. The number includes $2.05 million he had at the end of 2011 minus $1.44 million of 2012 expenses. That means he raised $2.9 million in 2012.
He has no campaign debt.
His other political committee, Friends of Tom Corbett, reported $28,000 on the books.
His biggest single contributor was John Mork, the Colorado-based President and CEO of the Energy Corporation of America, who gave $100,000. The company is heavily involved with Marcellus shale development.
Other big contributors include the Carpenters PAC of Phila ($75K) and retail chain founder Al Boscov ($75K). Labor unions gave, too. The Steamfitters Local 449 contributed $25K and IBEW Local 98 in Philadelphia gave $20K.
Corbett spent about $24 million on his campaign in 2010.
He leads every Democrat whose name has been floated as a possible candidate in 2014. The closest is Rep. Allyson Schwartz. Every cent of the $3.11 million in her congressional campaign account could theoretically be transferred to a gubernatorial campaign.
Next is Pa. Treasurer Rob McCord, who reported $1.44 million on hand after his 2012 re-election campaign.