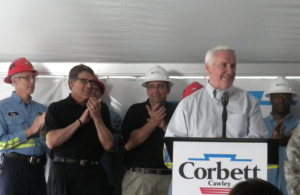 Governor Corbett commenced the post-primary season with an Energy for Families event in Southpointe today. Both Governor Corbett and guest Rick Perry spoke about the energy industry's unparalleled success in stimulating job creation in Pennsylvania through the action of the private sector.
Governors Corbett and Perry spoke in a tent packed with employees of the natural gas and coal industries situated in Washington County, an area which has benefitted enormously from the development of the local energy resources. According to Christine Toretti, who introduced Gov. Corbett, 40% of the country's recent boom in economic growth is due to energy; the discovery of Marcellus shale alone has produced $89,000 per year.
When beginning his speech, Corbett asked for a show of hands from people in attendance whose current jobs were due to the development of the energy industry in Pennsylvania. Many raised their hands and enthusiastically signaled their support for Governor Corbett.
Clearly running on his record, Corbett emphasized the role of the private sector in job creation and statewide growth. According to the Governor, in the last three years the energy industry provided 150,000 new jobs in Pennsylvania and 40,000 more are expected this year. Stressing that he drastically reduced the unemployment rate from 8.2% to 5.7% during his time in office, Corbett commented that most of these jobs were due to the development of new energy technologies.
Corbett believes that his challenger, Tom Wolf, previously Secretary of Revenue under Ed Rendell, would be "a blast from the past." He stated,
"Tom Wolf wants to spend more money, tax more people, and grow Pennsylvania's government," he stated. "I don't want to grow government — I want to grow industry."
Corbett highlighted that supporting Pennsylvania's energy industry, rather than taxing it, will allow businesses to take risks and invest domestically rather than abroad. "Local investment creates jobs, providing Pennsylvanian citizens with a means to support their families while also reducing our nation's dependence on energy imports," Corbett asserted.
Governor Perry, a staunch defender of domestic energy development, also spoke. He expressed his desire that "Washington allow the states to exist as laboratories of innovation, where they may decide their policies and how best to create jobs for their citizens." Governor Perry jested that Pennsylvania, as it has moved from the fifth largest energy producing state to the second, will soon be challenging his home state of Texas' number one spot.
Corbett is clearly beginning the post-primary season aggressively by inviting Governor Rick Perry to speak, and leading with the hotly contested issue of energy. However, a recent Franklin and Marshall poll found that only 5% of Pennsylvanians stated energy as their main concern as November approaches.
Rather than taking a more moderate stance on issues, as candidates typically do after primary season, Corbett chose to associate with Perry, communicating his intent to remain very conservative on social issues.
The Pennsylvania Democrats released a statement criticizing Corbett for appearing with Perry, because of the Texas Governor's conservative positions concerning both women's health and same-sex marriage.
"While the gay marriage supporters throughout the Commonwealth celebrate yesterday's decision, Tom Corbett is setting an unwelcome and far right tone for the rest of his campaign," they wrote. "Both Tom Corbett and Rick Perry have not only openly objected to same sex marriage, but they have both repeatedly insulted and demonized the LGBT community."
Choosing not to comment on the main focus of the event, stimulating domestic energy through private investment and creating jobs, the PA Democrats instead decided to attack Governors Perry and Corbett.