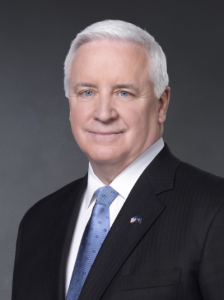 The Commonwealth Court recently upheld the injunction against the controversial Voter ID law, and now Governor Corbett announced they will not appeal the decision.
"The Commonwealth will not pursue an appeal to the Pennsylvania Supreme Court to overturn the Commonwealth Court's decision to enjoin Act 18's photo identification mandate. Based upon the court's opinion, it is clear that the requirement of photo identification is constitutionally permissible. However, the court also made clear that in order for a voter identification law to be found constitutional, changes must be made to address accessibility to photo identifications," Corbett's statement reads.
"A photo identification requirement is a sensible and reasonable measure for the Commonwealth to reassure the public that everyone who votes is registered and eligible to cast a ballot.
"The Administration will work with the General Assembly to address these issues. However, through the current legislative term, we must remain focused on passing a balanced budget and addressing ongoing legislative priorities."
The injunction against the law called the requirement of photo identification an undue barrier to voting.