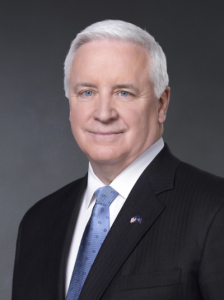 Governor Corbett delivered his fourth budget address to the state legislature today. The message is both an attempt by the Governor to outline this year's legislative blueprint and ensure that this year's address is not his last.
In order to help make that happen, Corbett unveiled an ambitious agenda that he hopes will turn around his poor poll numbers. The centerpiece of which is new funding for the Commonwealth's schools including $100 million for public schools, $20 million for special education and $10 million for preschool.
"Every child in this state should be, ready to learn, ready to grow, ready to succeed, and my budget sets an agenda in that spirit," Gov. Corbett stated. "Education is the largest single item in my budget. The increase I propose would bring direct state support of public education to $10.1 billion, more than 40 percent of state spending."
The content of the address suggests that, at least to some extent, the Governor regrets the education cuts he pushed for at the start of the Administration. A recent Franklin & Marshall poll suggests that this initiative may have poisoned the well for Corbett among many voters. That poll asked the 72% of voters who only gave the Governor a fair or poor job rating why they had responded that why. 19% of them, the largest portion, said "education issues: cuts, teacher evaluations".
The education cuts that he is often credited with were due to a decrease in federal stimulus money used for education.
The question remains, however, how will Corbett increase education spending without increasing the state's deficit or raising taxes? That question has already prompted some reaction from the state's Republican leaders.
"Where are they going to get this money? That's what everyone is waiting to hear," is what House Republican spokesman Steve Miskin told the Morning Call yesterday when news of the proposal first leaked out.
The Governor seemed to obliquely address this question earlier in this address.
"This budget represents how we have worked together to build a stronger Pennsylvania," he said. "Because it's not about how much we spend, it's about how we invest precious tax dollars back into the people of Pennsylvania and our commonwealth's future."
Pennsylvania's Democrats, however, were overall not impressed by the proposal. Just after the Governor finished, PA Democratic Party Chairman Jim Burn released a statement criticizing Corbett's fiscal policies and calling the address an election speech.
"Throughout his tenure as Governor, Tom Corbett has often preached fiscal responsibility as a road to recovery for Pennsylvania," Burn wrote. "Yet the Commonwealth currently faces a deficit upwards of $1.4 billion. While both Democratic and Republican governors across the country have turned deficits into surpluses, Tom Corbett, a self proclaimed "fiscal conservative," has mismanaged Pennsylvania's budget."
Whether Corbett's education initiative will be adopted by the GOP legislature and earn the plaudits of voters remains to be seen and could have a significant effect on his chances in November.