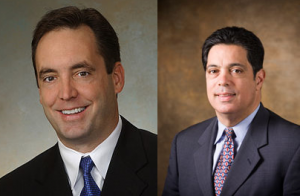 He was only elected last week but new Senate Majority Leader Jake Corman (R-Centre) is already getting into a dispute with his Democratic counterpart.
According to John Micek of the Patriot-News, Sen. Corman suggested on an upcoming episode of WHP-TV's "Face the State" program that the legislature might not wait for Tom Wolf's inauguration to take action.
"Tom Corbett is governor for four years, not three years and 10 months," the Senator said. "We get sworn into office on the first Tuesday [in January] and we might go to work."
The indication that the legislature might meet for a so-called "lame-duck" session before Gov. Corbett leaves office on January 20th set off alarm bells in the Democratic caucus.
"The suggestion by the incoming Senate majority leader that the General Assembly engage in a lame-duck session in January – to take advantage of Governor Corbett's last days in office – is inappropriate, unprecedented and inexcusable," Senate Minority Leader Jay Costa (D-Allegheny) wrote in a statement. "The citizens have spoken and they have chosen a different governor with new ideas to move Pennsylvania forward."
"The ill-conceived idea to empower and use an unaccountable governor in his last days in office to revive already rejected policies would be viewed as an act of desperation and a serious blow to reform," Sen. Costa continued. "I would be very surprised if Governor Corbett would allow himself to be used by Republican leadership in this way."
Micek noted that Corman was "looking at the schedule" to see if there would be enough time for a new session. Therefore, it's possible the new GOP leader will back off this tactic. Still, the legislature has avoided lame-duck sessions in recent history and Sen. Costa feels a break from that tradition would practically be an insult to Governor-elect Tom Wolf.
"The voters of Pennsylvania spoke loudly and clearly that they wanted Governor Wolf to work with lawmakers on solutions, not to perpetuate gridlock," Costa concluded. "The idea that a January lame-duck session would be productive is ludicrous and counter to any conceivable measure of good government."
This conflict is the first between the two Senators so far. Corman unseated Sen. Dominic Pileggi (R-Delaware) last week by harnessing the energy of conservatives who felt Pileggi was too moderate and labor-friendly. Meanwhile, Costa was easily re-elected. It will be intriguing to see if this first episode sets the tone for the relationship between the two party leaders of the legislature's upper chamber.