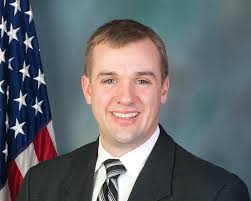 State Rep. and current Majority Whip Bryan Cutler (R-Lancaster) is believed by some to be next in line for Majority Leader.
Cutler, who is serving his sixth term in the state House, has said he is "certainly interested" in the position that current Majority Leader Dave Reed (R-Indiana) will be leaving at the end of the year.
The Majority Leader is an important role, as he or she drives the chamber's agenda and is central to important negotiations including .
"The position of majority leader is the most important leadership position in the building, because that individual decides what bills actually advance to the floor of the House of Representatives," state Rep. David Hickernell (R-Lancaster) told LNP.
Although likely favored, Cutler still has to be approved by a majority of his House Republican colleagues. While there are no specific rules as to who can serve, the Majority Whip has often risen to take the position over last four decades, with Reed being an exception.
Although Cutler would traditionally be seen as "next in line", G. Terry Madonna disagrees.
With reps. Stan Saylor and Kerry Beninghoff potentially in contention Madonna says "My sense about it is there's no real heir apparent here."
Former spokesman for Governor Tom Corbett Kevin Harley cautions that contenders for the position can enter or drop out just days before the vote, causing a lot of uncertainty.
If any candidate wants a shot at the job, they will likely need the support of House Speaker Mike Turzai. Turzai has not endorsed anyone, but has called Cutler a "real leader… outstanding" and "a really good friend."