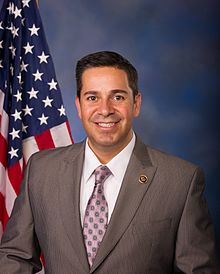 Democratic Congressional Campaign Committee (DCCC) Chair Ben Ray Luján said for the first time that the House is in play for Democrats to gain the majority, and sees Pennsylvania as one of the main places to gain seats.  
In a memo to committee staff, Luján touts internal DCCC polling that shows Democrats making gains in targeted districts, including some in Pennsylvania.  
"As you know, we need 24 seats to retake the majority. Our DCCC polling team and outside pollsters went into dozens of districts in the last few months to learn:Is the momentum real? Is it building to the point that we can win 24 seats and take back the House? The answer is yes," the memo read.  
The polling Luján referenced included some Pennsylvania specific numbers.  
According to DCCC's internal generic Republican versus generic Democrat polling in congressional districts there has been a swing in their favor in targeted seats.  In the 8th district, they show a swing from a -8 in their pre-2016 election poll, which is an eight point advantage for Republicans in the district, to a +3 for Democrats in their most recent poll. The 7th district shows a swing for the Democrats as well, from -9 to +1.
The memo also pointed to the job approval ratings of President Trump in Congressional Districts, including the 8th district, where 54% had a negative opinion of Trump's job performance according to the DCCC's internal polling.  
The DCCC is targeting four districts in Pennsylvania, three of which are in the Philadelphia suburbs.  They see the suburbs as where they are likely to pick up seats.  
In the memo, Luján touted the recruitment efforts of the DCCC including their efforts in Pennsylvania recruiting Chrissy Houlahan, who national Democrats have begun lining up behind in the 6th district.  
The National Republican Congressional Committee (NRCC) pointed to the results in special elections across the country and the work of Pennsylvania's Republicans.  
"Democrats are looking up at the scoreboard and Googling the conversion rate between moral victories and an actual vote in Congress. Meanwhile, Pennsylvania Republicans are delivering results for their districts," NRCC spokesman Chris Martin said in an email.