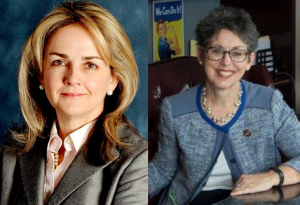 State Rep. Madeleine Dean (D-Montgomery) filed a petition challenge against fellow state Rep. Mary Jo Daley (D-Montgomery) to try to get Daley off the May primary ballot.
Dean is challenging 1,199 of Daley's 2,019 signatures according to WHYY.  
Dean's campaign says some of the petitions Daley filed were for other candidates, including Dean and former Congressman and fellow candidate Joe Hoeffel.  
Other signatures are facing scrutiny from the Dean campaign as well.  
"There are many signatures and pages that appear to be signed by the same hand," Dean's campaign manager Megan Caska told WHYY.  
Daley's lawyer, Liz Roggio, said that while they not object to striking the two pages of signatures filed for other candidates, which totals 23 signatures.  Roggio told WHYY that those types of issues happen often as circulators often ciculate for multiple candidates and sometimes put petitions into the wrong packet.  
Despite the challenge Roggio said the campaign "feel[s] confident that we're going to be fine and that Mary Jo Daley will have no issue qualifying for the ballot."
The case will be heard in the Commonwealth Court unless the campaigns can form an agreement about which signatures are valid and which are not.