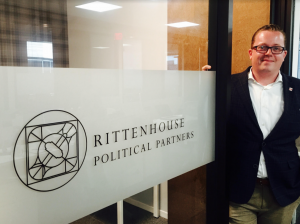 The Philadelphia fundraising and consulting firm Rittenhouse Political Partners has announced a new hire.
The organization is bringing in Neil Deegan, the former State Director of Enroll America. Before that, Deegan worked on Congresswoman Allyson Schwartz's 2010 and 2012 congressional campaigns as well as her 2014 bid for Governor.
"Neil joining our team means that we are able to expand our capacity as well as the range of services we can offer to current and prospective clients in the political and non-profit realms," said Aubrey Montgomery, Rittenhouse Political Partners founder and Principal.

"It's an honor to join Rittenhouse Political, and to add my skills and experience to Aubrey's and the team's to benefit what is an incredible roster of clients and help them to achieve their goals," Deegan responded. "I am excited to continue to grow the reach and resources of the firm and for the opportunity to bring professional fundraising and political support to more of the region's campaigns and organizations."

Deegan is a graduate of Temple University and Central High School.