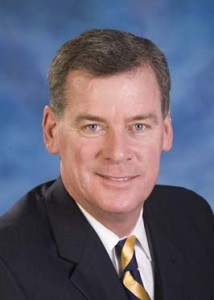 If Delaware County Republican leaders get their way – and history suggests they will – Council Council Chairman Tom McGarrigle will the party's nominee for state Senate in 2014.
GOPers including Senate Majority Leader Dominic Pileggi (R-Delaware) and Chairman Andy Reilly threw their support behind McGarrigle's as-yet unannounced bid this week.
"Tom McGarrigle is a super guy and a great leader and businessman. He lead the effort on the local end to save the refineries here in Delaware County," said County GOP Chairman Andy Reilly.
"The senior leadership of the party is going to recommend Tom for the endorsement." He added that they recommend "accelerating" the endorsement process in the race.
McGarrigle, 54, was elected to County Council in 2007. He is married with three sons and owns and manages an automotive service station in Springfield.
Three other names had been floated as possible successors to Erickson: County executive director Marianne Grace along with state Reps. Joe Hackett and Nick Miccarelli. Both have good profiles; Hackett is a former police officer, while Miccarelli is an Iraq War veteran.
"We'll have a stronger ticket with them running in their seats. Marianne Grace is the most important cog in county government," Reilly said.
"Rumors are flying that [state Rep. Nick] Micozzie may retire next year," said a former GOP operative in Delco. "To have Miccarelli or Hackett run would mean two open seats and risked putting the GOP at a disadvantage."
McGarrigle's biggest advantage: the zip code on his office.
"They wanted someone not tied to Harrisburg or Governor Corbett," said the former GOP operative.
The Delaware GOP is one of the state's strongest county parties, and candidates with the backing of party leadership have an enormous advantage in winning the nomination. Indeed, serious primary opponents rarely materialize against them.
The open seat battle will be one of the most contested state Senate races next year. Democrats seized on the prospect of an open seat when long-serving Sen. Ted Erickson announced his intention not to seek re-election. He had won most re-election races by double digits, although Democrats came within 5 points in 2006.
The 26th Senate district comprises parts of Delaware and Chester counties and was made slightly more Republican in the latest round of redistricting. Its party registration is 49.5% Republican, 39.4% Democratic. But in 2012 – along the lines that will be used in 2014 – it went 56% for Barack Obama and Kathleen Kane, and 58% for Sen. Bob Casey.
The likely Democratic nominee is John Kane, 53, the business manager of the Plumbers Union Local 690 which serves the Philadelphia region.
"John Kane has been a leader in his community, and since declaring his candidacy he's received support from Democrats, Republicans, and Independents from all corners of the district who are excited to see Kane serve as their Senator and bring his proven record of creating family sustaining jobs and standing up for the middle class," said Aren Platt, the executive director of the Senate Democratic Campaign Committee.
"It will be interesting to see how Chairman McGarrigle distances himself from Corbett and the Republican's terrible record on women's healthcare, education funding, and job creation."