http://youtu.be/vgis7FQ4cRg
Seeking to avoid a GOP television spending advantage in the 12th district, the Democratic House Majority PAC is on the air blasting Republican Keith Rothfus with familiar Medicare messaging.
The super PAC seeks to boost Democratic incumbents and challengers in the U.S. House. They're returning to western Pa. for the first time since August.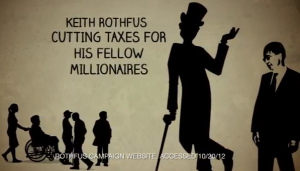 "Rothfus praised an extreme plan that will increase costs, removing Medicare's promise of secure health coverage, would 'essentially end Medicare,' replacing it with vouchers, costing seniors an extra $6,400 a year," an announcer says. "All while cutting taxes for his fellow millionaires."
The 30 second spot is basically a re-hash of numerous Dem claims this cycle, including the stretch that Rothfus is a "Wall Street lawyer" ("Critz and his liberal friends say I'm a Wall Street lawyer. The fact is that I work on Stanwix Street in Pittsburgh," Rothfus said in an ad earlier this cycle).
As Politifact noted of a House Majority PAC ad back in March, the "essentially end Medicare" quote from the Wall Street Journal is used out of context, and the $6,400 number is an estimate for future seniors, not current seniors as depicted in the ad.
The ad will appear in the Pittsburgh market for the next week to the tune of $230,000.
On Monday, the Club for Growth announced that it would spend $300,000 on Rothfus's behalf. That tilted overall campaign ad spending in Rothfus's favor – until the House Majority PAC's announcement Tuesday.
Rothfus spokesman Thomas Doheny said, "The ad is using the same false information that has already been disproven and branded as the 'lie of the year' by Politifact."
"The truth is that Keith Rothfus wants to save Medicare and make it strong for future generations. That's why he is running against the Obama-Critz plan to gut over $700 billion from Medicare to pay for Obamacare, which creates an unelected board of bureaucrats that will cut Medicare in ways that will lead to denied care for seniors, ending Medicare as we know it."
The federal budget authored by Rep. Paul Ryan (R-WI), which Rothfus supports and  is the basis for the House Majority PAC ad above, also removes – dollar-for-dollar – the same $700 billion plus from Medicare.