For the first time since early September, Pennsylvania voters will see presidential campaign ads on network television. Two Democratic super PACs are collaborating on the air in Pittsburgh with a spot blasting Republican Mitt Romney.
Workers' Voice, the super PAC of the AFL-CIO, and Patriot Majority are airing the ad.
It's part of a million-dollar, three-state buy also in Ohio and Wisconsin. However, lest anyone grow excited at the prospect of the presidential race coming back to Pa., the groups note that the Pa. component is primarily aimed at voters western Ohio. The Pittsburgh media market bleed across the border into that state, where airtime is in high demand and expensive.
The announcement also comprises an online buy in the other two states to direct viewers to a new microsite: www.EconomicTraitor.com.
Like most pro-Obama television ads in Pa. this cycle, the 30 second ad spotlights Romney's background with Bain Capital, the investment company he founded.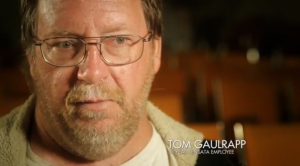 "The week before they came, they took the American flag down that flew outside the plant," says Tom Gaulrapp. He's identified as an employee of Sensata, an Illinois company purchased by Bain. The ad says he was made to train Chinese workers who would ultimately take his job.
"The week after they left, they put it back up, like we're supposed to be ashamed that we're Americans."
The PAC seeks to preempt the Romney camp's response – that the outsourcing mentioned occurred after he turned over the reins of the company.
"Mitt Romney IS Bain Capital. He created it. Made a fortune from it. Even today, he remains invested in it," the announcer says.
Romney spokeswoman Kate Meriwether said the ad was a distraction from the President's record on China.
"This is a misleading ad that is attempting to distract voters from President Obama's failed record on standing up to China," she said. "President Obama promised to take China 'to the mat' but China continues to cheat without consequence as Americans across the country lose their jobs. For four years, we've seen the results of President Obama's failure to stand up to China. Mitt Romney will do it on day one of his presidency."
The last group to air presidential ads in Pa., the Democratic super PAC Priorities USA Action during the first week of September, also hammered Romney on Bain. (Those ads you've been seeing during Cosby Show reruns on TV Land? Airing on national cable, not Pa. specific).
Closing poll numbers have lead some to suggest that Romney may decided to contest Pa. – for months seen as safe for Obama. Real Clear Politics shows Obama's average polling lead down to 4.8 percent from nearly double digits a month ago.