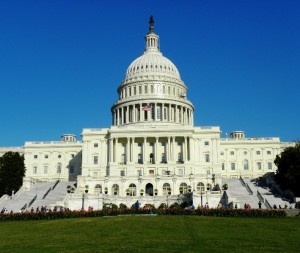 A Democratic super PAC, the House Majority PAC, reserved ad time in the fall in twenty-four congressional districts. At the moment, no PA district is included on their list.
The goal of House Majority PAC, of course, is to make sure the Democrats become the majority party in the House. Unfortunately for Democrats, given the organization's target list, it doesn't appear they believe they can accomplish this in 2014.
Only six of the twenty-four districts in which they've bought ads are seats currently held by Republicans and all six are in states that voted for Barack Obama in 2008 and 2012. All the other districts contain Democrats trying to hold onto their seats.
Although no PA districts have been selected by the group as of yet, that doesn't mean that will remain the case. Pennsylvania's 8th District, for example, is seen by many prognosticators as perhaps the party's best chance in the state but there is currently a competitive Democratic primary between businesswoman Shaughnessy Naughton and Afghan and Iraq War vet Kevin Strouse.
There is one person being left out in the cold, though, and that's PA-6 Democratic candidate Manan Trivedi. With Gerlach's retirement, PA-6 should be the most competitive it has been in years. Yet the open seat is not seen by this Democratic group as a prime pick-up opportunity even though (or perhaps because) this will be Trivedi's third straight time on the ballot.
According to PoliticoPro, the group has indexed $6.5 million for its campaign so far. The districts on their list are included below:
—  Arizona's 1st District. Democratic Rep. Ann Kirkpatrick is the incumbent. Total reservation: $420,785
— Arizona's 2nd District. Democratic Rep. Ron Barber is the incumbent. Total reservation: $138,693
— Arizona's 9th District. Democratic Rep. Kyrsten Sinema is the incumbent. Total reservation: $420,785
— California's 7th District. Democratic Rep. Ami Bera is the incumbent. Total reservation: $189,610
— California's 36th District. Democratic Rep. Raul Ruiz is the incumbent. Total reservation: $112,219
— California's 52nd District. Democratic Rep. Scott Peters is the incumbent. Total reservation: $512,190
— Colorado's 6th District. GOP Rep. Mike Coffman is the incumbent. Total reservation: $425,330
— Florida's 2nd District. GOP Rep. Steve Southerland is the incumbent. Total reservation: $232,120
— Florida's 18th District.  Democratic Rep. Patrick Murphy is the incumbent. Total reservation: $561,423
— Florida's 26th District. Democratic Rep. Joe Garcia is the incumbent. Total reservation: $175,894
— Iowa's 3rd District. GOP Rep. Tom Latham is the incumbent, but he is retiring and the seat is vacant. Total reservation in the district is $125,127
— Illinois's 10th District.  Democratic Rep. Brad Schneider is the incumbent. Total reservation: $229,354
— Illinois's 13th District. GOP Rep. Rodney Davis is the incumbent. Total reservation is $143,878
— Illinois's 17th District.  Democratic Rep. Cheri Bustos is the incumbent. Total reservation is $128,898
— Massachusetts's 6th District. Democratic Rep. John Tierney is the incumbent. Total reservation is $124,020
— Minnesota's 2nd District. GOP Rep. John Kline is the incumbent. Total reservation: $329,371
— Minnesota's 8th District. Democratic Rep. Rick Nolan is the incumbent. Total reservation: $354,265
— New Hampshire's 1st District. Democratic Rep. Carol Shea-Porter is the incumbent. Total reservation: $162,253
— New Hampshire's 2nd District. Democratic Rep. Ann Kuster is the incumbent. Total reservation: $162,253
— New York's 1st District. Democratic Rep. Tim Bishop is the incumbent. Total reservation: $394,706
— New York's 11th District. GOP Rep. Michael Grimm is the incumbent. Total reservation: $162,759
— New York's 18th District. Democratic Rep. Sean Patrick Maloney is the incumbent. Total reservation $565,900
— New York's 24th District — supporting Democratic Rep. Dan Maffei. Total reservation: $166,254
— Texas's 23rd District. Democratic Rep. Pete Gallego is the incumbent. Total reservation: $221,347