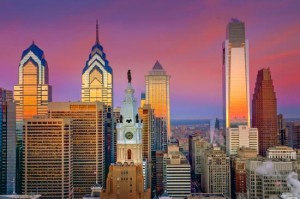 With Philadelphia in the running to host the Democratic National Convention in 2016, prominent state Democrats are now turning their attention to raising money for the event.
Former Governor Rendell, Governor-elect Tom Wolf, Philadelphia Mayor Michael Nutter, U.S. Senator Bob Casey Jr. and U.S. Representative Allyson Schwartz were among the Democrats who met with legal, corporate, and labor leaders on Monday afternoon.
Rendell said Philadelphia put the price tag for the event at $84 million when submitting the plan to the Democratic National Committee, but noted they could raise $100 million if they needed.
"That's what we figure we need to run a first-class convention," Rendell said after the meeting. "We also gave them a detailed financial plan that showed we could raise $100 million if we had to. Now we've got to go about turning that into reality."
Rendell then put his money where his mouth is, pledging to give $25,000 for the convention in Philadelphia. Murat Guzel, a businessman and well-known Democratic Party delegate, pledged an additional $100,000.
An official decision for the host city will be announced in mid-January. In addition to Philadelphia, four other cities are in the running, including Brooklyn, New York; Phoenix, Arizona; Birmingham, Alabama; and Columbus, Ohio.