Jay Paterno, the son of former Penn State football coach Joe Paterno, is weighing a challenge to Congressman GT Thompson.
Democrats in Centre County and northern Pa. have buzzed about the possibility for months. Robert Vickers of the Patriot News first reported the potential candidacy on Thursday.
The Patriot News and PoliticsPA were unable to reach Paterno for comment.
The Scranton Times-Tribune reported in July that some anonymous group – possibly the Democratic Congressional Campaign Committee – conducted a telephone poll of a Paterno-Thompson race.
Since then and even before, local Democrats seized on the possibility.
"I know he's interested at some point in running for office. But I don't know if he'd do it this cycle," said Centre County Democratic Chairman Greg Stewart.
"He would be an awesome candidate. I've encouraged him to run for years," former state Rep. Dan Surra (D-Elk) told PoliticsPA in August.
Rob McCord set the buzz to a fever pitch during a speech at a Centre County Democrats event this month.
"Jay is a smart, capable leader who really wants to help people," McCord reiterated to the Patriot News through a spokesperson. "I believe he would win that congressional seat and make a great member of Congress. I'd love to see him get in that race."
PA-5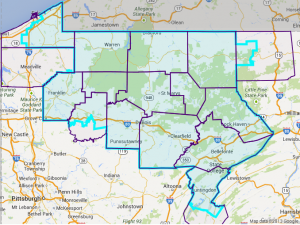 The 5th district is the largest in Pa. and comprises mostly rural counties in the northern tier. Its population center is Centre County and State College, which comprise 24.3% of registered voters according to Labels & Lists. Erie County, including areas just outside the Erie city limits, comprises another 16.9%.
The district has a Cook Partisan Voting Index of R+6, meaning the average Republican will defeat the average Democrat by 6 points. That's a shade more Democratic than it was prior to redistricting.
But Paterno is no average Democrat.
The son of the coaching legend, Jay served as an assistant PSU coach. In the wake of the Jerry Sandusky scandal, Jay emerged as a high-profile defender of his father's legacy.
Joe Paterno remains very popular in the region.
Jay is also a committed Democrat despite the fact that his father was a Republican. His brother Scott ran for Congress in 2004 as a Republican against Tim Holden.
Jay, 45 campaigned for President Obama in 2008 as an officially vetted surrogate.
A bid for Congress may have been on his mind for some time. In an August 2012 column on the website StateCollege.com, he elaborated at length about Republican redistricting efforts.
"With data that can be broken down by precinct, street and even by house it is easier than ever to design congressional districts that are safe for one party or the other," he wrote.
Glenn "GT" Thompson
Ideologically, Rep. Thompson (R-Centre) typically joins House conservatives but sometimes votes with the moderates. For example, he voted to end the government shutdown earlier this month.
A nursing home operator by trade, he is generally well regarded in the district. He won election in 2008, his most competitive general election campaign to date, by 16 points.
Under virtually any other circumstances, he would be considered a rock-solid, safe pick for re-election. But Democrats hope a Paterno on the ballot would put in play a district that has been off the table for decades.
"Not since the mid-80s has the DCCC played in this district," said one experienced Centre County politico.