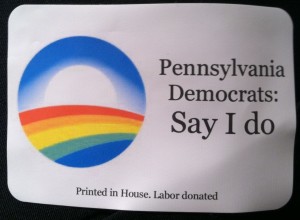 Support for same sex marriage is firmly in the mainstream of Democratic politics in Pennsylvania.
The Democrats running for Governor immediately praised the monumental decision by the Supreme Court to strike down the Defense of Marriage Act. The decision repeals a law that prevented the federal government from recognizing same sex marriages in states where they are legal.
Tom Wolf, a businessman and former Secretary of the Pennsylvania Department of Revenue issued his own statement of support.
"The Supreme Court's ruling today on the Defense of Marriage Act reaffirms our values of fairness and tolerance. It is the right decision. Two loving citizens, regardless of their sexual orientation, should be allowed to enter into a marriage and take part in the benefits that come with it. Now, Pennsylvania must pass marriage equality; it's time we had equal rights for all under the law."
Kathleen McGinty, a former Secretary of the Pennsylvania Department of Environmental Protection also spoke of the need to institute marriage equality in PA.
"Today is an historic moment that will long be remembered as the day when fairness and compassion won. The Supreme Court's rulings on marriage equality are huge victories for all Americans who believe in equality under the law. But too many Pennsylvanians are still disadvantaged within their own home state. Now is the time for commonwealth to follow suit and pass legislation affirming marriage equality for all Pennsylvanians," she said.
John Hanger, who succeeded McGinty as Secretary of the PA Department of Environment Protection, was the first candidate to respond. He hailed the decision as a victory and challenged Gov. Corbett to take action.
"It's time for Pennsylvania to pass its own marriage equality legislation, allowing gay couples to legally wed and to pass legislation that bans discrimination against members of the LGBT community," Hanger said. "Governor Corbett opposes this basic human right. I would immediately ask the General Assembly to pass marriage equality and anti-discrimination legislation."
Mark Segal, of the Philadelphia Gay News, tweeted early this morning that he had already heard from Rep. Allyson Schwartz (D-Montco).
"Congresswomen (sic) Allyson Schwartz just called to congratulate and say we need to do likewise in Pennsylvania," Segal said. He had previously said, "Gov Jerry brown of California just issued executive order to issues marriage licenses as soon as court lift the ban."
The PA Democratic party as well was quick to note that Gov. Corbett has taken a number of anti-LGBT stances in the past including supporting a constitutional amendment to outlaw same-sex marriage and opposing employment benefits to same-sex partners.