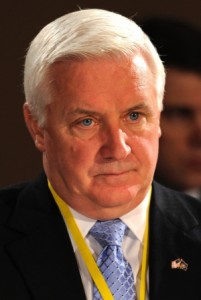 Well Labor Day is behind us, which means we're now in election season. The only difference is that the gubernatorial election isn't until next year. In the meantime, though, the PA Democratic Party has set out to hammer Governor Corbett as evidenced by their creation of the website kickoutcorbett.com.
The site, which calls Corbett "America's Least Effective and Most Out-of-Touch Governor", is a litany of every controversial and contentious moment of the Governor's tenure in office. For instance, the homepage mentions the uproar over the legal brief filed by the Governor's staff that compared same-sex marriage to marriage between 12-year olds.
Perhaps the most damaging attack, though, and the one most likely to be heard throughout the next fourteen months, is the party's disputed claim that the state now ranks 49th in the nation in job growth.
"The new website, Kick Out Corbett, integrates a number of organizing tools including social organizing, which allows volunteers to use their existing social networks to spread the word about Tom Corbett's failed record, and a virtual phonebank, which provides a way for supporters to call voters and talk about Tom Corbett's policies that have hurt Pennsylvania," said Mark Nicastre, a communications official with the state Democratic Party. "The website will allow Pennsylvania who are fed up with Tom Corbett's failed policies to reach out to their friends and neighbors to tell them about Tom Corbett's failed policies."
Websites like these are a common tactic for a political party to attack an incumbent before they chose their own nominee. The PA Democratic Party may fear the in-fighting among a crowded primary will dominate the news until the primary next spring and seem to be trying to keep the focus on the Governor.
In response to the launch of the website, the Corbett campaign chose to focus instead on Democratic front-runner Allyson Schwartz and her recently unveiled plan for an extraction tax on natural gas.
"Outside of creating sophomoric websites, the only other thing the PA Dems and our opponents like Allyson Schwartz have come up with is new schemes to spend more of the taxpayers hard-earned money and put Pennsylvanians out of work by banning jobs in natural gas," said Michael Barley, Corbett's campaign manager.
The Democratic candidates for Governor include former DEP Secretaries John Hanger and Katie McGinty, Allentown Mayor Ed Pawlowski, Rep. Allyson Schwartz, and former Department of Revenue Secretary Tom Wolf. State Treasurer Rob McCord is also widely expected to run.