Dems Offer New Marcellus Bills, But Outlook is Grim
By Nicole Houck, Contributing Writer
Arguably one of the most controversial issues in environmental politics, the Marcellus Shale debate continues in the House of Representatives in the new legislative session. So far this year, Democrats have introduced several bills on the issue.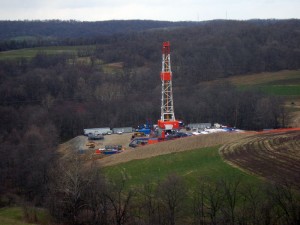 Representative Greg Vitali introduced a bill that would place a tax on the extraction of natural gas in the Marcellus Shale region. House bill 33 features 60 co-sponsors, four of which are Republicans. If enacted, the tax would be 5 percent of the value of each 1,000 cubic feet of natural gas severed, plus 4.6 cents per 1,000 cubic feet. In the long term, the tax would generate an estimated $245 million for fiscal year 2011-12, and that number would grow to nearly $570 million by 2015.
"Pennsylvania is the only major natural gas producing state in the nation that does not have a severance tax or fee in place," Vitali said. "Out-of-state companies are profiting from the Commonwealth's resources, and the Commonwealth should benefit too."
Representative Phyllis Mundy has also been actively sponsoring legislation pertaining to Marcellus Shale sponsoring three House bills. Mundy is the primary sponsor of House Bills 232 and 234. Both of these pieces of legislation amend an act of December 19, 1984 (P.L. 1140, No. 223).  These bills aim to protect the environment, especially the water supply in Pennsylvania, from contamination via natural gas drilling. Mundy has also sponsored House Bill 233, which would provide for a moratorium on the issuance of permits for new drilling permits in the Marcellus Shale formation.
"With thousands of gas wells expected to be drilled in the next decade, we have to make sure appropriate law and regulations are in place," Mundy said. "We must ensure that drillers do the job right; prevent problems to the extent possible and, when problems do occur, that they are dealt with effectively."
The Marcellus Shale debate still lingers in the PA legislature, but solid GOP majorities and Governor Tom Corbett's campaign promise not to increase taxes or fees make a bipartisan resolution unlikely. Corbett supports the increased regulation of gas well drilling in Pennsylvania, but he is opposed to a on year moratorium on the drilling of new wells. When it comes to a severance tax, Corbett is firmly against taxing for natural gas extraction.
Given all of the opposition, the outlook is grim.
Note: an earlier version of this story said that only Democrats had introduced bills on this issue. There have been over 30 bills introduced so far this session. Some members have introduced multiple bills but 15 by Republican members and 10 by Democrats. Thanks to Tim Bittle of the comprehensive website Marcellus Minutes for pointing this out.