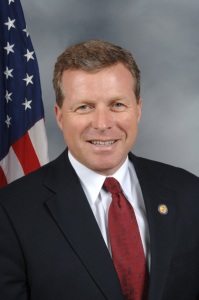 Rep. Charlie Dent (R-Lehigh) Monday became the only member of Congress from Pennsylvania to vote against his or her party during the ongoing battle over funding the government.
After attempting to corral support for passing a clean continuing resolution (CR) to keep the government funded, Dent voted against the Republican majority to try and force a vote.
The government shut down at midnight.
7:15pm: The effort to use a procedural tactic to force a vote on a clean CR, without any provisions aimed at limiting Obamacare, failed 225-204. Only 6 Republicans including Dent broke ranks to vote with Democrats.
8:40pm: Dent followed his procedural opposition with a vote against the final GOP-backed CR. That resolution would have delayed the individual mandate in the Affordable Care Act, aka Obamacare, by one year. He was one of 12 Republicans to break ranks on that vote; 9 Democrats also voted against their party.
While trying to rally support among Republicans for a clean CR, Dent told the Morning Call that he told congressmen a third strike at Obamacare would not be successful in getting through the Senate and being signed by the President.
"We've launched two strikes, neither were successful, and I suspect a third one would likely not be successful either," Dent said. "The hourglass is nearly empty and it's time to get on with the business of funding the government and come back to fight another day."
9:30pm: The Senate voted to strip the Obamacare language and sent a clean CR back to the House.
1:10am Tuesday: Finally, after the midnight deadline had passed and the government entered shutdown, House Republicans voted for a joint resolution that would bring House and Senate conferees into a negotiation – something Senate Majority Leader Harry Reid has refused.
Dent was one of 9 GOP votes against the move toward a joint resolution, something critics have characterized as a Republican delay tactic. 7 Democrats voted with the GOP.