DePasquale a Favorite for Dem Endorsement
By Keegan Gibson, Managing Editor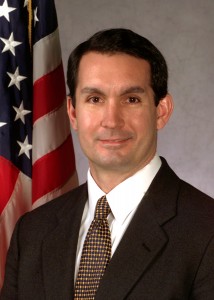 When Democratic state committee meets in State College on January 14, it looks like their decision for Auditor General won't take too long.
The only candidate actively pursuing the endorsement, York lawmaker Eugene DePasquale, is in position to walk away with it.
"Noting but a bolt – nothing but a dozen bolts of lighting will keep that from happening," said Jack Hanna, chairman of the Dems' southwest caucus.
The endorsement requires a two-thirds votes of all committee members present.
Hanna said DePasquale was the only candidate in the race who has called him thus far. He hasn't heard from Jack Stollsteimer, former Philadelphia Safe Schools advocate who is considering a bid.
Stollsteimer told PoliticsPA that he hadn't yet made the decision whether to run.
Pa. Senator Anthony Williams is also unlikely to run. Back in 2010, right after he lost the Democratic primary for Governor, he said that he would be seeking the Auditor's office. However, Williams has not pursued it actively and a few sources indicate he is not likely to proceed.
PoliticsPA is currently seeking comment from Williams.
Outgoing Allegheny County Executive Dan Onorato had himself considered a bid, but deferred on the race and endorsed DePasquale – along with about 100 other notable Democrats.
"We're continuing to lay the groundwork to be the endorsed candidate. Eugene is working the phones and traveling all corners of the state," said DePasquale campaign manager Liz Wagenseller. "We're getting great feedback, especially in the west."
DePasquale was born and raised in Pittsburgh, where his grandfather was a city councilman.
Speaking with committee members, it's clear that DePasquale is personally well liked. However, he does have a piece of baggage as the result of his recent vote in favor of the Republican-drawn congressional map. 36 Democratic House Dems – mostly Philly-area allies of Rep. Bob Brady – voted for the plan. Depasquale was one of them. And he could draw fire, particularly from Democrats in heavily-gerrymandered southeast Pa. or the Lehigh Valley.
The lawmaker was confronted during a recent trip to the LV by Pennsylvania Progressive's John Morgan (video below), and criticized in a subsequent post on Keystone Politics.
Depasquale argued that his congressional district, the 4th, made geographic sense.
"My job is to represent my district," he said.
Wagenseller said that DePasquale hadn't received any negative constituent feedback about the vote.
27 year-old Philadelphia resident Devon Cade is also pursuing a bid. According to a cryptic email from Cade, he is the former  CEO of a non-profit. He ran unsuccessfully for Pa. House in 2006, when he garnered 16.6% against Rep. James Roebuck.
Elyse Clonan contributed to this report.