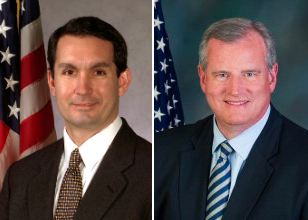 Eugene DePasquale (D-York) and John Maher (R-Allegheny) have two things in common. Both are running for the office Pa. Auditor General, and both are running unopposed for re-election to their seats in the State House. One good government group is crying foul.
"Holding one public office while running for another provides a taxpayer subsidy of the incumbents' political campaigns," said Tim Potts, President of Democracy Rising. "This is not what voters want. By 87 percent to 12 percent, voters want to require elected officials to resign from their current office as soon as they decide to seek a different office."
"The alternative of holding special elections apart from regularly scheduled election days is expensive. Costs are hard to estimate but a ballpark estimate is $100,000 to $150,000 per seat," he added.
Potts cites a poll conducted at the behest of his organization by pollster Terry Madonna. The December 2011 survey of 504 voters show that they indeed support such a rule, 86.5 percent to 11.6 percent. The full poll results, including a number of other questions of ethics in government, are available here (pdf).
There are three candidates in the race for Pa. Auditor General: DePasquale, Maher, and former Pa. Community Bankers CEO, Republican Frank Pinto. If DePasquale or Maher wins the office, since each is unopposed for State Rep., a special election will be necessary.
Pinto was highly critical of both candidates over the issue.
"It shows the culture of arrogance that exists in Harrisburg," he said. "How could these guys be counted on to watch over taxpayer money as Auditor General when they're willing to wasted hundreds of thousands of dollars on special elections?"
He noted that candidates for special elections are chosen by "party bosses" and not voters.
Both DePasquale and Maher downplay the significance of their dual candidacies.
Maher said Potts' proposed rule, that a candidate resign his or her current office as soon as he or she decides to seek another, is unconstitutional as well as impractical.
"Tim Potts apparently prefers the certainty of two additional special elections this year for the House to the chance of a single one next year," he told PoliticsPA. "I do not recall Potts expressing this concern when Onorato and Wagner were campaigning to be governor, but perhaps I missed it. In any case, his unconstitutional proposal would require considerable legislative effort to advance. I prefer to devote such energy towards reducing the size of the House."
DePasquale declined to comment for the story, but he addressed the issue recently in an interview with the York Daily Record:
According to DePasquale, he's received one communication in the past year from a constituent about the issue of running for two offices simultaneously. By contrast, he's heard from three constituents about the issue of legally owning boa constrictors.
"People said they didn't want to lose me if I didn't win the auditor general's race," DePasquale said.