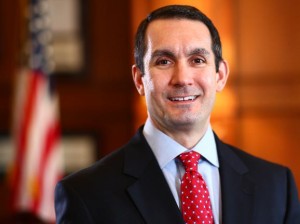 Auditor General Eugene DePasquale has kept a relatively low profile since announcing his re-election campaign.
Yesterday, however, he announced endorsements from PEG PAC, an offshoot of the Pennsylvania Business Council and the TCI PAC, which represents highway builders.
"During his time in office, Auditor General Eugene DePasquale has proven to be a friend of the business community and an advocate for all Pennsylvania taxpayers," said David W. Patti, PBC President & CEO.
"As a statewide candidate, and before that as a legislator, General DePasquale has been a strong voice for a modern transportation system in Pennsylvania," said Mark Snyder, Chairman of the Transportation Construction Industry Political Action Committee (TCI-PAC) and President/CEO of the Mid-Atlantic Group of Oldcastle Materials. "We're pleased to endorse his bid for reelection."
It is rare for these groups to endorse Democrats statewide, according to DePasquale's political director Sean Marks.
DePasquale does not have any primary opposition, and is expected to face Northampton County Executive John Brown in the general election this November.