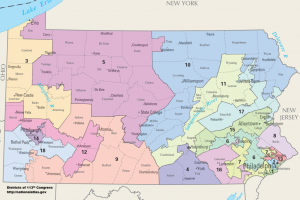 In response to the state Supreme Court ruled Pennsylvania's Congressional maps unconstitutional, the Department of State announced it is shifting the dates for Congressional candidates to circulate petitions.  
Congressional candidates will start circulating petitions on February 27th, and file them by March 20th.  The shift only applies to Congressional petitions, candidates seeking other offices in the state will circulate based off the original deadlines.  
The ballot lottery will then be held on March 22nd, and candidates will have until March 27th to challenge petition signatures or withdraw their names from the ballot.  
The Department says it "will make nomination petition forms and instructions available for the office of Representative in Congress as soon as possible after a new Congressional Redistricting Plan is approved."  
The Supreme Court set February 9th as the deadline for legislators to draw a new map and submit it to the Governor who will have until February 15th to approve it and send it to the court.