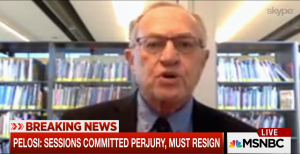 A national Democratic commentator offered a solution to the ongoing Trump/Russia imbroglio that runs through Harrisburg.
Harvard Law School Professor Emeritus Alan Dershowitz told MSNBC's Greta Van Susteren that Pennsylvania Attorney General Josh Shapiro should conduct a separate investigation into Russian influence in Pennsylvania's election.  
"I'm going to suggest that the Attorney General of Pennsylvania, a state that went seven tenths of one percent for Donald Trump, conduct an investigation of whether or not the Russian government had influence on the outcome of the Pennsylvania election," Dershowitz said Thursday.  
"Here you have a Democratic Attorney General of a state that went for the Republican that has a stake in the outcome of this investigation, and that person ought to be at least conducting an investigation."  
Dershowitz is a frequent commenter on criminal and constitutional law, and the Felix Frankfurter Professor of Law at Harvard.  
PoliticsPA is seeking comment from Shapiro's office on the suggestion.
You can view the entire segment here: