Dispatches from PA Society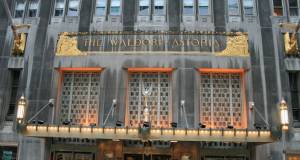 Everywhere you went on Friday, you overheard the same lament from attendees of the 117th annual PA Society weekend.
"There are much less people here than usual, it's not anywhere near as crowded as it normally is."
With still no budget signed, the Governor and state legislators were in large part nowhere to be found. In fact, Wolf even tried to contrast the NYC party image with a stop at a Harrisburg soup kitchen.
Despite that, however, plenty of people populated the Waldorf Astoria on Friday evening, including former Governors Tom Corbett and Ed Rendell. The former was only accompanied by his wife while the latter seemed to have a whole entourage with him.
Democratic Senate candidate John Fetterman stood out from the crowd literally and figuratively. The Braddock Mayor was wearing his by now trademark outfit with a custom tuxedo shirt underneath (I saw a few other staffers wearing it in solidarity).
Fetterman was such an unique figure that his sighting was enough to cause a spontaneous press conference as some of Philly's best (Dave Davies, Chris Brennan, John Baer) quizzed him.
Perhaps most impressive, though, was the fact that the new candidate was being followed by a tracker. Running against well-known pols like Joe Sestak and Katie McGinty in the Democratic primary, the Mayor has apparently made enough of an impact to earn attention from America Rising PAC.
Meanwhile, Sestak took a trip to Harrisburg to criticize lawmakers for failing to pass a budget by passing out food and clothes to the needy.
As for Congress, Senator Bob Casey made the rounds as did Rep. Charlie Dent. In fact, yours truly got to overhear the Congressman explain to Montgomery County Commissioner Josh Shapiro how the Freedom Caucus was able to deny House Majority Leader Kevin McCarthy the Speakership. Additionally, just about everyone in New York this weekend considers a Shapiro run for Attorney General a fait accompli.
Congressional candidates for the three SEPA seats (PA-6, PA-7 and PA-8) were omnipresent. Mike Parrish, Mary Ellen Balchunis, Lindy Li, Shaughnessy Naughton and Andrew Warren were all spotted at one point or another. Li, by the way, exhibited an almost encyclopedic knowledge about PoliticsPA.
Finally, the Waldorf Astoria was as much as a character as any politician. A Gilded Age relic, you can run into everyone from a tourist mom and her toddler daughter to a couple on the way to a masquerade ball on the elevator. So, in spite of all the talk of budgets and boycotts, PA Society is still much like the Waldorf. Wacky, superfluous and not going anywhere any time soon.