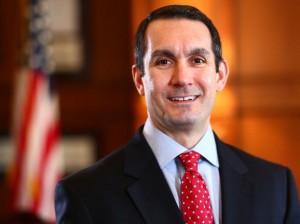 Supreme Court candidate Kevin Dougherty nabbed a high-profile endorsement Thursday.
The Democratic candidate and Administrative Judge of the Philadelphia Court of Common Pleas received the support of Pennsylvania Auditor General Eugene DePasquale. The endorsement will be announced at a formal press conference in York on Monday.
Dougherty recognized the significance of the endorsement ahead of the May 19 primary, calling DePasquale "one of the most trusted and respected officials in the Commonwealth of Pennsylvania" meaning his support "will resonate far and wide."
"I have admired the work of Judge Kevin Dougherty for many years and am proud to endorse his candidacy for the state's highest court," DePasquale said in a statement. "Judge Dougherty possesses all the qualities the citizens of Pennsylvania should want in a Supreme Court Justice — honor, integrity, experience, intellect, compassion and a depth of understanding of the law. He will be a great addition to the Supreme Court."
Dougherty is one of the frontrunners in a pack of 12 candidates seeking one of the three open seats on the bench. And he has the most money in his war chest heading into the primaries. Through March, Dougherty racked in more than $700,000, due in part to his connection to labor unions. Dougherty's brother, John Dougherty, leads the Philadelphia chapter of the International Brotherhood of Electrical Workers.