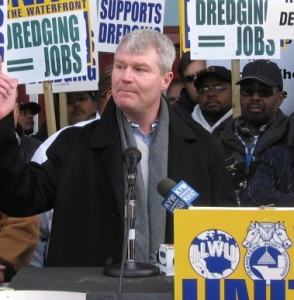 John Dougherty is generally considered the most powerful union leader in Philadelphia, if not all of Pennsylvania.
As a result, when he says something people tend to listen.
On the eve of the 2016 primary, Dougherty wrote a letter to the PA AFL-CIO that was subsequently sent out to the press.
The letter comes amidst a report from Anna Orso of BillyPenn that alleges that the Dougherty and Zappala families made a deal sometime before last year's elections. Zappala's father, a former PA Supreme Court Chief Justice would endorse the Supreme Court campaign of Kevin Dougherty (brother of John). Dougherty would then support Zappala's son in his race for Attorney General.
Dougherty's full letter is presented below:
April 24, 2016
Dear Friends,
I'd like to start off by thanking everyone for all the support you gave my brother Kevin for the PA Supreme Court. And I would like to use that election as a segue into my email tonight.
For the record, I am supporting Stephen Zappala for Attorney General. Stephen is a great District Attorney and an even better person, but a terrible politician.
The November 2015 election was the first time in my 25 years of being a labor leader that every part of the Commonwealth stayed true to the endorsed ticket, as well as making sure that all five judges were supported equally, from Allegheny to York, from Centre County to Lackawanna, through Southeastern PA. As you know, we have been losing statewide judgeships on a regular basis.
Part of my support for Stephen was to continue the statewide Democratic partnership that not only saves money, but also maximizes statewide turnout for the Democratic slate. Selfishly, we in Philadelphia have little chance to win elections without this type of partnership, despite our financial resources and large voter turnout. All that being said, Josh Shapiro's most recent moves and decisions have me scratching my head.
By now, you probably know that the American Federation of Teachers (AFT) revoked their endorsement of Josh Shapiro because of his acceptance of over $200,000 from Students First.  Josh held the check he received from Students First for almost two weeks before depositing it, ensuring that it would be reported in a different cycle (is this even legal?), thus guaranteeing that he would get the AFT endorsement without them becoming aware of the magnitude of the Students First PAC's support of him.
Josh also has accepted A LOT of money from non-union owners, developers and contractors.  There are WAY too many to name, but as recently as this past week, Josh accepted ANOTHER contribution from Allan Myers of $10,000 (when he just finished telling union leaders, who challenged him on the earlier contributions, that he wouldn't do it again). This makes Allan Myers contributions to Shapiro over $40,000 to date. Also, the contributions he took from Midatlantic Construction (a 100% NON-UNION company and anti-Building Trades), were so small in comparison to other contributions that there was almost no need for him to accept them, let alone ask for them.
But the thing that irks me the most is the "cherry-picking" and misrepresentation of one of Stephen Zappala's cases from his exemplary 18-year record – the racially antagonizing commercial that Josh is playing now. Putting politics aside, in a time when most civic leaders are coming together, raising racial tensions for political benefit is just wrong. I went my entire State Senate campaign (against Vince Fumo) without uttering a negative word or airing a negative commercial. I would rather lose an election than lose my integrity and manipulate a political moment.  
Thanks for taking the time to digest this.
John J. Dougherty
Business Manager
IBEW Local Union 98