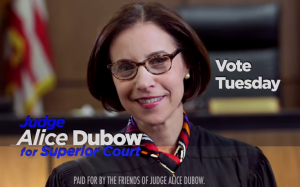 The matchup for an open seat on Pennsylvania's Superior Court is set.
With 9,046 of 9,172 (98.62%) precincts reporting statewide, Philadelphia Judge Alice Beck Dubow defeated Robert Colville in Tuesday's Democratic Primary election to challenge for a seat on the State Superior Court in November.
With 371,913 votes (58.52%), she secured almost three-fifths of the electorate against Colville's 266,115 votes (41.71%).
Dubow, 56, whose mother served as the first woman elected to the Superior Court, will face Republican Emil Giordano in the November General Election. The term for Superior Court judges is 10 years.
She has served as a Philadelphia judge since 2007.