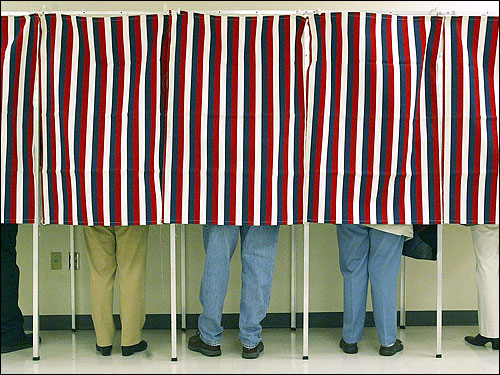 Good morning politicos! Democrats have their nominee for Governor and several congressional and legislative races came down to the wire. Four (maybe 5) incumbents lost. Plus, a federal judge's ruling means same sex marriage is now legal in Pennsylvania. Catch up with PoliticsPA's Election rundown.
PA-Gov: Wolf Wins Democratic Nomination: The York businessman cruised to victory and will face Gov. Tom Corbett in the fall.
Lt. Gov: Stack Wins Big: The state Senator took a big lead in his home town of Philadelphia and never looked back.
PA Same-Sex Marriage Ban Struck Down: The U.S. District Court ruled same-sex marriages are legal in the state of Pennsylvania
PA-8: Strouse Edges Naughton In Tight Finish: The Iraq and Afghan war veteran emerged victorious in the competitive Democratic primary.
PA-13: Boyle Captures Democratic Nomination: After months of bitter campaigning, the Philadelphia State Rep. easily won the Democratic nomination in PA-13
PA-9: Rep. Shuster Wins Republican Primary: Shuster beat back conservative challengers in southwestern Pa
PA-12: McClelland Wins Democratic Primary: Businesswoman Erin McClelland has officially been named the winner of the Democratic primary in Western Pa.'s only competitive congressional seat. She beat former Murtha staffer John Hugya.
Legislative Races
SD-4: Haywood Defeats Indicted Sen. Washington: The incumbent lost a three-way battle for the Democratic nomination.
SD-36: Aument Scores GOP Victory: State Rep. Ryan Aument won the Republican nomination in the battle between two legislators.
HD-20: Ravenstahl Survives Primary Challenge: State Rep. Adam Ravenstahl retained the Democratic nomination over Tom Michalow
HD-22: Schweyer Wins Dem Nod In New Seat: The Allentown City Councilman nearly doubled his competitor for the Democratic nomination in the newly relocated seat.
HD-36: Readshaw Beats Molchany in Incumbent Showdown: In the state's top redistricting battle, ten-term state Rep. Harry Readshaw overcame the progressive campaign of freshman Rep. Erin Molchany. In the end, it wasn't close.
HD-46: Contrite White Wins Democratic Primary: Rep. Jesse White (D-Washington) has retained his seat in HD-46 against local elected official and US Army veteran Thomas Casciola.
HD-74: Downingtown Mayor Maxwell Wins Democratic Nomination: In the battle of Joshuas for the Democratic nomination in this seat, Maxwell prevailed.
HD-112: Farina Wins Nomination in Redistricting Battle: State Rep. Frank Farina defeated two challengers including a colleague to win the Democratic nomination.
HD 164: Davidson Retains Control In Democratic Primary: One of the most embattled incumbent politicians this cycle has survived her primary challenge.
HD-194: DeLissio Outlasts Brady-Backed Challenger: State Rep. Pam DeLissio is on her way to a third term Tuesday after beating challenger Dave Henderson.
HD-197: Amidst Miranda Controversy, Acosta Wins Dem. Primary: Leslie Acosta took advantage of the troubles of incumbent Rep. J.P. Miranda.
HD-202: In a Close Finish, Incumbent Cohen Wins Primary: Incumbent State Rep. Mark Cohen was able to stave off fellow Democrat Jared Solomon in the HD-202 primary — but it was a close one.
Too Close to Call
HD-176: Safe GOP. Incumbent Rep. Mario Scavello (R-Monroe) won the Republican nomination for a new Senate seat and resigned his House seat to do so. With 15 out of 15 precincts reporting, it looks like Republican resort operator Jack Rader very narrowly edged out James Becker for the GOP nod, 1,130 to 1,111. The final outcome will depend on absentee and provisional ballots. The official winner of that primary will face Democrat Hope Smith in a district that heavily favors a Republican.
HD-179: Safe Dem. With 55 of 57 of precincts reporting, it looks like Rep. James Clay (D-Philadelphia) may have lost to challenger Jason Dawkins, a former staffer of Philadelphia City Councilwoman Maria Quiñones Sánchez. Dawkins now has 2,133 votes to Clay's 2,053. Dawkins' candidacy is part of a broader push by Sanchez to expand her coalition in the city.
Other Congressional Races of Note
PA-5: Kerith Strano Taylor defeated army veteran Thomas Tarantella 55% to 45% and netted over 18,000 votes in total. Republican incumbent Glenn "GT" Thompson (R-Centre) is a favorite in the general election.
PA-13: While this is one of the most Democratic districts in the state, there was still a contested primary on the Republican side. Dee Adcock defeated Beverly Plosa-Bowser, 66% to 34%. Adcock will face State Rep. Brendan Boyle (D-Philadelphia) in November.
PA-14: Apparently Rep. Mike Doyle had a Democratic challenger this cycle, though he easily won. Doyle took 84% of the vote against opponent Janis Brooks. Doyle will be unopposed in the general election.
PA-16: In the Democratic battle to face Rep. Joe Pitts (R-Chester), former State Rep. Tom Houghton emerged victorious with 63% of the vote against his Democratic opponent Raja Kittappa, who took 37%.
PA-17: Three Republicans sought the opportunity to face freshman Rep. Matt Cartwright (D-Lackawanna) while he was unopposed in his primary. Cartwright will face Schuylkill County Coroner David Moylan in the general election. Moylan won 45% of the vote, Matt Connelly took 34% and 22% went to Matthew Dietz. This seat leans Democratic and became moreso in the last redistricting when Cartwright ousted long-time Rep. Tim Holden.
Other Legislative Races of Note:
SD-2:Safe Dem. State Sen. Tina Tartaglione (D-Phila) easily overcame two challengers to win 51% of the vote. She faces Republican John Jenkins III in the general; Jenkins was unopposed in the primary.
SD-28:Safe GOP. Recently elected state Sen. Scott Wagner (R-York) cruised to an 85% victory against a longshot challenger. He will see a rematch with Democrat Linda Small in November. Small ran and lost in the special election to replace resigning Senator Mike Waugh (R-York).
SD-32: Battleground. State Rep. Deberah Kula was Democrats pick to replace retiring Sen. Rich Kasunic (D-Fayette) with 65% of the two-way vote share. The seat is the GOP's number one state Senate pickup opportunity in 2014.  Kula will face Republican Pat Stefano in the general election; Stefano ran unopposed.
SD-40: Battleground. Attorney Mark Aurand will head to the general, not Northampton County Councilman Scott Parsons as Harrisburg Democrats had hoped. Aurand took 41% to Parsons' 36%, with 23% to Joe Capozzolo. He'll face state Rep. Mario Scavello (R-Monroe) in the general for this newly drawn seat, moved from western Pa. During redistricting.
SD-50: Safe GOP. State Rep. Michele Brooks handily won the primary, taking 69% of the three-way vote share. Her opponents were state Rep. Greg Lucas (24%), who was redistricted out of his House seat, and Jane MacPherson (8%). Sen. Bob Robbins, announced his retirement in December. Brooks faces Democrat Michael Muha.
HD-5: Safe GOP. Former Berks County Sheriff Barry Jozwiak took 43% in a three-way GOP primary. This seat moved to Berks County during redistricting. Democrat Frederick Sheeler ran and won unopposed in his respective primary.
HD-8: Safe GOP. State Rep. Dick Stevenson (R-Mercer) is retiring. Tedd Nesbit, an Assistant Mercer Co. District Attorney, won 39% in the three-way race. Republican Nesbit will run unopposed in the general.
HD-17: Safe GOP. With Rep. Brooks on her way to the Senate, public school instructor Parke Wentling is on his way to the House. He won 43% in the crowded five-person primary. Wayne Hanson beat Dennis Webber in the Democratic primary, 60% to 40%.
HD-52: Safe Dem. State Rep. Kula (D-Fayette) is running for Senate. Perry Township supervisor Andrew Boni took 39% in the three-way race to replace her. He is unopposed.
HD-66: Safe GOP. Speaker Sam Smith (R-Jefferson) is retiring, and the man who nearly ousted him in 2012 will head to Harrisburg in the fall. Cris Dush, a member of the Pennsylvania National Guard and a retired prison officer, won 51% in the three-way primary. Dush will face Democrat Robert Santik in the fall; Santik ran unopposed.
HD-80: Safe GOP. State Rep. Jerry Stern (R-Blair) is retiring. GOP State Committeewoman Judy Ward took 57% of the vote over Aaron Ritchey's 43% to replace him. Ward will be unopposed in November.
HD-90. Safe GOP. State Rep. Todd Rock (R-Franklin) is retiring. Attorney Paul Schemel won a two-way fight to replace him, 54% to 46%. He is unopposed in the general.
HD-93:Safe GOP. Kristin Phillips-Hill won the Republican nomination to fill this Republican-leaning vacant seat. Hill took 53% of the vote compared to Ernest Merisotis' 46%. The seat was left when Rep. Ron Miller (R-York) opted to run in a special election for State Senate; he lost to Scott Wagner. Hill will be unopposed in November.
HD-94: Safe GOP. Majority Whip Stan Saylor (R-York) beat back conservative challenger Kelly Henshaw for the second cycle in a row. He won 58% to 42%. He will face Democrat David Colon in the general.
HD-115: Battleground. This district number and territory used to belong to Ed Staback (D-Lackawanna). During redistricting, it became more rural (and forced Frank Farina to compete in HD112). David Parker, who is co-owner of Cramer's Home Building Centers, prevailed in the five-way primary with 54% of the vote. Parker will face Democrat Maureen Madden in the general election.
HD-120: Safe Dem.  Incumbent Phyllis Mundy retired and endorsed her staffer, Eileen Cipriani to replace her. Cipriani cruised to success in the Democratic primary with 64% of the vote. Aaron Kaufer won the Republican nomination.
HD-146: Battleground. Tom Quigley was the only GOP incumbent ousted in 2012. He easily won his two-way primary as he seeks a rematch with state Rep. Mark Painter (D-Montgomery).
HD-158:Battleground. State Rep. Chris Ross (R-Chester) is retiring. Attorney Cuyler Walker won the two-way primary for this suburban seat with 65% and will face Susan Rzucidlo in the general.
HD-169: Safe GOP. This seat was moved from Philly to York County during redistricting. Attorney Kate Klunk won a heated and at times nasty four-way primary with 39% of the vote.
HD-173: Safe Dem. Incumbent Rep. McGeehan (D-Phila) retired, leaving this seat open. Democrat Mike Driscoll, a co-owner of the bar Finnegan's Wake, bested two opponents and took 63% of the vote. He will face Republican Mike Tomlinson.