By Brittany Foster and Keegan Gibson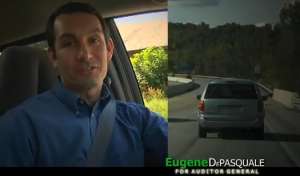 Eugene DePasquale's campaign for Auditor General released a get-to-know-you video last night in advance of this weekend's Democratic State Committee. The video does a good job capturing DePasquale's quirky, sincere style, but the star of "Meet Eugene DePasquale" is his light blue Ford Winstar.
Depasquale has represented the city of York in the PA House since 2007. Before that he worked in the Department of Environmental Protection. But as the video makes clear, he returns to his native Pittsburgh often, where as a child he played football and baseball.
"I'll be an Auditor General who protects Pennsylvanians, and the important programs that make a difference in our lives," he says. "Early education for our children, affordable health care for our seniors and working families, and safer roads and bridges."
"And if Governor Corbett proposes any initiative that makes middle class people work hard for less, while rewarding special interests, I will stand against it."
The video, produced by Democratic ad man Bud Jackson, is a mix of testimonials, headlines about past accomplishments, and numerous references to DePasquale's Pittsburgh roots.
The Pittsburgh approach makes sense – another rumored Auditor General candidate is Dan Onorato of Allegheny County.
This isn't the first time Jackson has worked for DePasquale, either. He's responsible for this gem from the York lawmaker's first campaign in 2006.
He's done work for a range of campaigns in Pennsylvania, including several high-profile Dem takeaways in the PA House. He's done TV spots on behalf of Frank Dermoody, Mike Gerber, Rick Mirabito, Matt Bradford, Bryan Lentz and more through the House Democratic Campaign Committee.
The van has a story, too. DePasquale has been a crusader for a law prohibiting texting while driving.
"The van actually has a dent in the side from a driver who was texting while driving," said campaign manager Liz Wagenseller.
And this is just one part of DePasquale's summer efforts. Since June, he's traveled across the sate to attend local Democratic and other events in two dozen counties.
Meet Eugene DePasquale:
http://youtu.be/MrCW8wFr5yQ
The 2006 ad:
http://youtu.be/A3MtI2PGR9c