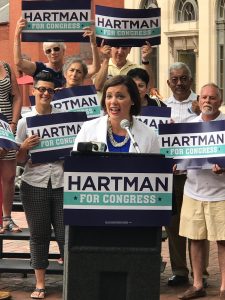 Democrat Christina Hartman is rolling out slate of endorsements from elected officials and political leaders in Berks and Chester Counties.  
"I'm honored and energized by the support and encouragement these endorsements represent," Hartman said of the endorsements.  
The endorsements are from:
Kevin Barnhardt, Berks County Commissioner

Wayne Braffman, Kennett Square Borough Council

Rep. Tom Caltagirone, State Representative 127th District

Kathi Cozzonne, Chester County Commissioner

Christopher Daubert, Reading City Council

Whitney Hoffman, Kennett Township Supervisor

Nicholas Imbessi, West Reading Borough Council

Donna Reed, Reading City Council

Rep. Mark Rozzi, State Representative 126th District

Isamac Torres-Figeroa, PA State Latino Caucus

Phil Wert, West Reading Borough Council
"In 2018, Christina Hartman is going to finish what she started for the voters in PA-16. With her track record of bringing people together, Christina is the perfect choice to put our country back on to the right track. I'm proud to support her candidacy for US Congress," Cozzonne said in statement.  
"The people of Berks, Chester, and Lancaster counties deserve someone who will be part of the solution, not part of the problem in Congress. As PA-16's Congresswoman, I will work to overcome the partisan divide and find answers using the Pennsylvania values we all share," Hartman said.  
The endorsements comes three weeks after Hartman released the endorsements of Lancaster officials.  The 16th district includes parts of Berks and Chester counties, but is centered around Lancaster county.  
Rolling out these endorsements will likely help show donors and national Democrats that she still has the support of local Democrats to help her raise money to build her war chest.  
Hartman ran against Smucker in 2016, losing by 10.87 points.  Hartman is running against former Warwick school superintendent John George, nonprofit director Jessica King,  and Lancaster city resident Richard Griffiths Smith Jr. in the Democratic primary.