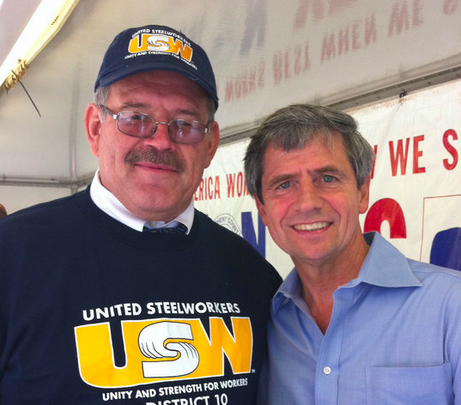 Add another name to the ever-growing list of prospective Democratic candidates for Governor: state Sen. Tim Solobay of Washington County.
According to four Democratic sources, including two who have spoken with Solobay, he's floating his name for the office.
Several calls to Solobay and his office were not returned Tuesday.
The southwestern Pa. native who served in the state House for 10 years before his 2010 election to the Senate joins about 15 other Democrats who have floated their names for Governor.
Among Tom Corbett's prospective challengers are Pa. Treasurer Rob McCord, U.S. Rep. Allyson Schwartz, former U.S. Rep. Kathy Dahlkemper, businessman Tom Knox and more. Former Department of Environmental Protection Secretary John Hanger is already officially in the race. His Senate colleague Mike Stack of Philadelphia is also mulling a bid.
Former U.S. Rep. Joe Sestak is also a possible candidate and even U.S. Sen. Bob Casey hasn't ruled it out.
What's Solobay's advantage in such a large field? Geography.
Almost every other candidate is from eastern Pa. In fact, only three live west of the Susquehanna River including one in Cumberland and another in York County. Just one – Dahlkemper, of Erie – lives in western Pa.
Solobay could have a built-in fundraising base (in a primary, if not a general). He is extremely well regarded by the natural gas drilling companies whose executives have contributed substantially to Pa. campaigns in recent years. He has voted in line with Republicans on most Marcellus issues.
That said, one Democrat who'd heard of Solobay's intentions said she believed he actually has his eyes on the Lieutenant Governor's office.
On the Republican side, Montgomery County Commissioner Bruce Castor said he is considering a primary challenge to Corbett.
A Solobay candidacy would have the adverse impact for Democrats of risking a seat in the state Senate. His party's hopes to push for a majority in that chamber would be diminished in the event of an open Democratic seat in trending-red southwestern Pa.
Prior to his election to the state House Solobay, 56, served as a constable for 16 years. He was previously a radiographer at two local hospitals.
He's a volunteer firefighter and in 2010 earned headlines when he fought off four muggers in Harrisburg.